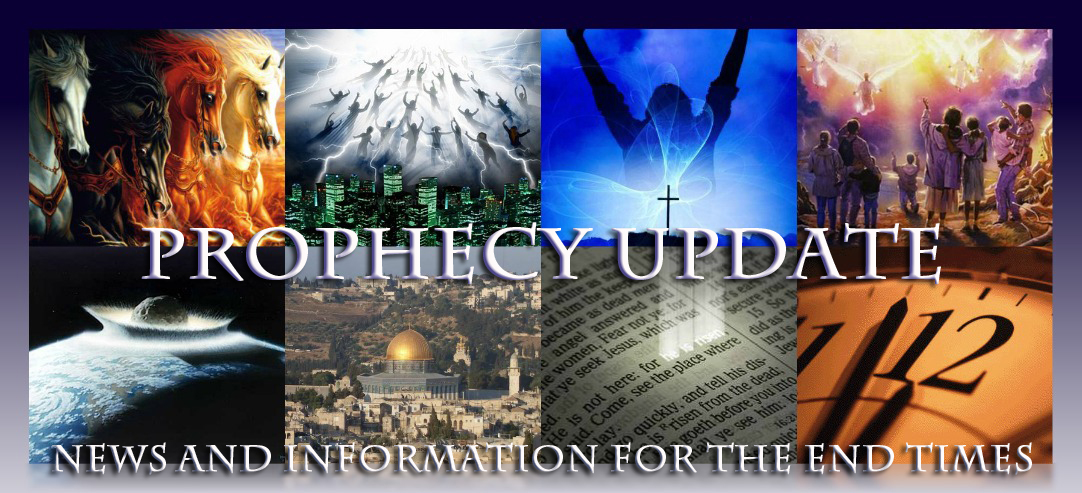 August 28, 2012
Read All the Headlines of Prophetic Interest at:
STAY INFORMED - DON'T BE LEFT BEHIND!
Let us make the short time we have left count for all eternity!
Help Spread the Word!
Forward this Newsletter to all your friends and family members! Pray it Forward!
You can submit an article, leave a comment or praise report at email:
---
CURRENT HEADLINES FROM PROPHECY UPDATE
8/28/12
---
New DVD ¯ Now Shipping!
Angels, Aliens and Armageddon
The Coming Deception...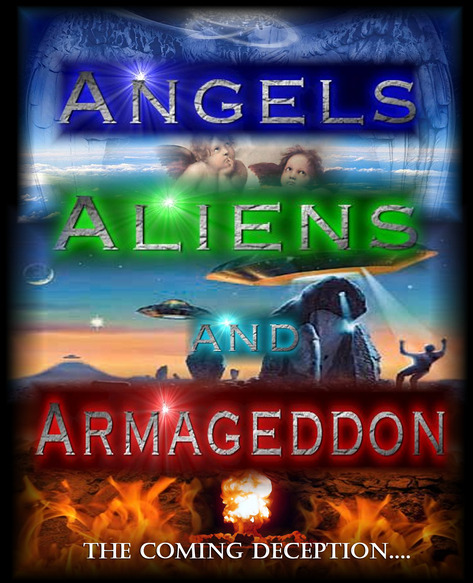 **Reviews**
I would venture to guess that not 1 in 100 Christians gives much thought about the unseen spiritual warfare occurring in each of our lives and the current events Randy provides in his daily emails. Randy's new video, "Aliens, Angels and Armageddon" sorts through Old and New Testament scripture to share explanations for angels, good and bad, and how all of us are part of the unseen fighting occurring around us. You will think differently about Randy's articles and your own life's struggles when you filter them through the lens and knowledge of knowing Satan and his demons are continually trying to destroy Israel and torment us with different fiery arrows. These lessons will strengthen your faith and provide perspective to endure the trials you undoubtedly will experience sometime soon. Great job, my brother! - John Wicklund, Chair Olive Tree Board of Directors
Eye opening! A very plausible End Times scenario, now it all makes sense! - D. Koerner - Bakersfield, CA
Just finish watching "Angels, Aliens and Armageddon" DVD. Randy, you did an excellent presentation on angels, aliens and the end time scenario. I highly recommend it... I will schedule presenting it in my area. ¯ A. Delage - Canada
For we do not wrestle against flesh and blood, but against the rulers, against the authorities, against the cosmic powers over this present darkness, against the spiritual forces of evil in the heavenly places. Ephesians 6:12
And there shall be signs in the sun, and in the moon, and in the stars; and upon the earth distress of nations, with perplexity; the sea and the waves roaring; Men's hearts failing them for fear, and for looking after those things which are coming on the earth: for the powers of heaven shall be shaken. - Luke 21:25,26
One of the great characteristics of the end times is described in the New Testament as deception, or delusion, on a grand, perhaps unprecedented scale. The Lord Jesus warned that the deception that is coming in His Name and accompanied by great shows of power will be so convincing that even the very elect, that is, those who truly know Him, stand in danger of being carried away in the deception (Matthew 24:24).
For more info and to order your copy, please visit:
http://www.prophecyupdatenews.com/dvds.htm
---
PROPHECY UPDATE NEWSLETTER
STAY INFORMED, GET EQUIPPED, BE ENCOURAGED
Pre-Millennium ¯ Pre-Tribulation ¯ PrePARED
(Featured Article at Bottom)
---
NOTE: We are continuing to experience technical difficulties with the new web site and we are working hard to fix the problems, please continue to keep us in your prayers. I have thrown together a temporary web site that will help ease the transition and keep everyone updated, the web address is:
---
[ISRAELUPDATE] AUGUST NEWS REVIEW¯ David Dolan ¯ www.ddolan.com
MIDDLE EAST CRISIS MUSHROOMS
While the embattled Assad regime in Syria continued to lose ground in August to rebel forces as fighting raged in the war-torn Arab country, talk of a looming conflict between Israel and Syria¯¯s main ally, Iran, took front and center in the regional media. The Syrian regime was further weakened by major defections during the month, including that of the Prime Minister who fled to neighboring Jordan. This came as heavy fighting escalated in many parts of the capital city, Damascus, and in the country¯s largest city and financial hub, Aleppo in the northwest.
Turkey announced late in the month that it had reached its capacity to absorb Syrian refugees fleeing the intensifying fighting. Jordan was said to be nearing the same threshold. In Washington, President Barrack Obama made clear he would consider the use of any chemical weapons in the spreading conflict as a "game changer" that would spark a significant response from the Americans and their allies. Press reports said Washington and Ankara have drawn up military plans to intervene if Syria¯s vast chemical arsenal is either deployed by the regime, captured by rebel forces, or moved to another location. Off the Mediterranean coast, US and Israeli naval vessels held a four day joint exercise to test their compatibility to cooperate in any new regional war.
More violence flared in neighboring Lebanon during the month, pitting supporters and opponents of the embattled Syrian regime against each other. Meanwhile the Shiite Hizbullah militia pledged to support Iran in any military showdown with Israel. A Lebanese newspaper said the radical group has drawn up plans to invade and capture parts of the northern Galilee region in any future war. Israeli forces in the area remained on high war alert as a series of drills were held in different parts of the country to test the readiness for a possible massive missile blitz upon all portions of Israel. An Israeli official revealed that a regional war involving Iran, Hizbullah, Hamas and Islamic Jihad based in the Gaza Strip, and possibly Syria, would probably last around one month, taking several hundred Israeli lives. However some experts say they anticipate a much higher casualty figure in any new conflict.
Nuclear experts report the Iranian regime is defiantly stepping up its uranium enrichment program, setting up new centrifuges in its facilities near the city of Fordow. This news came as Iran¯s top leaders again vowed that "the Zionist entity" will soon be wiped off of the regional map. In Israel, the internal debate as to the wisdom and practicality of an IDF military strike on Iran¯s rogue nuclear program heated up like never before. While many called for imminent action before it becomes too late to destroy the growing underground portion of Iran¯s nuclear development program, a former armed forces chief joined other voices in calling upon government leaders to desist from a dangerous military operation at this time.
Another major terrorist assault launched against Israel from the volatile Sinai Peninsula took place during the month. This time, Egyptian security forces were targeted first before an armed attack was launched on an Israeli border position. The action led to an increased Egyptian military presence in the area, to the chagrin of some Israeli officials who fear the new Muslim Brotherhood-led government might actively back Hamas in its ongoing jihad war with Israel. Israeli concerns only increased when the new Egyptian President announced he would travel to Iran for an international conference¯¯the first such visit in over 30 years. On a more positive note, the new Egyptian Defense Minister phoned his Israeli counterpart to assure him that the government is still committed to the Camp David peace treaty that has been in effect, if just, since 1979.
MORE BLASTS FROM IRAN
Talk of a possibly pending major conflict with Iran grew to a fever pitch in Israel during August, fueled by a new round of bombastic Iranian warnings that the Jewish State will soon be totally wiped out. Speaking in mid-August to a group of Iranian war veterans from his country¯s long and blood-soaked war with Iraq, which was waged in the 1980s, Supreme Iranian leader Ayatollah Ali Khamenei declared that what he termed "the fake Zionist regime" will "disappear soon from the landscape of geography." Saying as he often does that the biblical Holy Land must be returned to total Muslim control, he pledged that "the light of hope will shine on the Palestinian issue, and this Islamic land will certainly be returned to the Palestinian nation." In an earlier speech delivered during Friday Muslim prayers, he vowed that "The nations of the region will soon finish off the usurper Zionists in the Palestinian land." However several Palestinian Authority leaders pointed out in response that any Iranian nuclear strike upon the small Jewish State would also kill untold numbers of Palestinians due to the fact that the two related peoples live in close proximity to each other.
Another threatening speech added further fuel to Iran¯s verbal blasts, this time delivered by Iranian military leader Brigadier General Gholamreza Jalali, who echoed Khamenei¯s visceral vow to annihilate Israel. Speaking before serving military personnel, he declared that "no other way exists apart from resolve and strength to completely eliminate Israel¯s aggressive nature and to destroy the country." Commenting on the war-mongering speeches, an Israeli official in Jerusalem said the latest Iranian genocidal threats were a "reaffirmation of what we continually hear from the Iranian leadership. The Iranians use unequivocal language, and their words speak for themselves."
The United States wasted no time in condemning the latest Iranian vows to annihilate the Jewish State, with the White House calling them "reprehensible." The European Union¯s foreign policy chief, Catherine Ashton, labeled the remarks "outrageous and hateful," while UN Secretary-General Ban Ki-Moon characterized them as "offensive and inflammatory." However, the UN chief also announced that he would attend this week¯s non-aligned summit meeting in Tehran and meet with senior Iranian leaders, a move that the Israeli government has strongly opposed.
The current IDF Chief of Staff, Lieutenant-General Benny Gantz, responded to the latest Iranian verbal barrage by warning that "whoever tries to harm us will face our devastating might." He noted "We are hearing explicit threats over Israel's security and the wellbeing of its people¯¯threats that demonstrate an underestimation of our capabilities. Anyone who thinks they can get rid of Israel and hurt our nation will discover the IDF¯s devastating force." Alluding to the missile threat posed by Iran¯s Lebanese Hizbullah puppet ally, he added that, "We stand steadfast along our borders in the face of threats. The IDF has the world's best soldiers and commanders."
The Reuters news agency reported in August that Israel has upgraded its Arrow II ballistic missile shield, which is designed to intercept and destroy medium range enemy rockets and missiles aimed at Israel. A senior Israeli defense official told the agency that the new "Block 4" generation of guided interceptor rockets, radars and related technologies are being installed in the Arrow. The report said the upgrade would serve to synchronize the Arrow with similar US systems. The Arrow, partially funded by the United States, has been operational since 2000.
IS WAR IMMINENT?
The war-like words pouring forth from Tehran served to ratchet up widespread Israeli media speculation that an IDF strike upon Iran¯s nuclear program may be imminent. This was enhanced by reports that Iran will soon complete its speedy operation to move most of its uranium enrichment nuclear facilities to an underground mountain bunker south of the capital city, making them nearly impossible to reach by existing IDF armaments. An unnamed Western diplomat stationed in Vienna told reporters Iran has been busy installing many new uranium enrichment centrifuges in its underground bunker near the city of Fordow. He said the operation is ongoing, and is expected to be confirmed in an upcoming report put out by the United Nations International Atomic Energy Agency. Israeli media outlets reported that nuclear experts say the Shiite Islamic Republic has started to enrich uranium at the Fordow underground site to a fissile purity of 20%, which brings it much closer to being ready for a rapid transformation to weapons-grade levels.
Adding to the growing public sense that war with Iran and its allies may be imminent, the army¯s Home Front Command stepped up its gas mask distribution during the month as increasing numbers of civilians requested the protective devices. This was despite the known reality that such masks are totally ineffective against a nuclear or biological attack, or a chemical attack involving deadly skin-penetrating nerve agents like Sarin gas, which Syria possesses in copious amounts. The Home Front Command held a large gas attack drill during the middle of August, centered in the northern Galilee region. The drill was widely reported by the Israeli media.
The army also tested out a new system to alert citizens of a pending missile attack, military operation or other threats affecting public order. The system simultaneously sends out thousands of SMS messages to Israeli cell phones informing area residents of a pending attack or other similar items. Analysts say the system gives the government a new ability to quietly, yet quickly inform the public of an imminent attack without utilizing the media¯¯heavily monitored by Israel¯s enemies. Issuing public alerts via the media would in effect give away the element of surprise if IDF forces were sent into action against Iran¯s nuclear targets. However not warning the public of pending action is morally questionable and would undoubtedly lead to increased Israeli casualties when the rockets and missiles do fly.
The Israeli Haaretz newspaper said in mid-August that President Obama had received a revised intelligence report that contained "startling fresh information" that Iran had made "unexpected strides" in its nuclear program, with some experts saying it might be able to produce several nuclear warheads before the end of this year. The newspaper said the report contained "new and alarming information" about Iran¯¯s nuclear production program. The White House said it would "not comment on intelligence reports the President may or may not have received."
Meanwhile American Defense Secretary Leon Panetta came to Israel in early August and met with senior government officials, including Defense Minister Ehud Barak. He later told reporters that Iran¯s militant leaders "have a choice to make. They can either negotiate in a way that tries to resolve these issues and has them abiding by international rules and requirements and giving up their effort to develop their nuclear capability. But if they don¯t, and if they continue to make the decision to proceed with a nuclear weapon, we have options that we are prepared to implement to ensure that does not happen."
THIRTY DAY WAR
The wisdom of Israeli leaders ordering a military strike on Iran was widely debated here during the month, sometimes openly and sometimes via anonymous quotes from senior officials. It became clear that a significant debate is taking place among senior cabinet ministers about the possible outcomes of an IDF operation, both militarily and diplomatically. Whether speaking on the record or not, almost all Israeli political and military leaders agree that if a military attack is deemed essential to halt Iran¯¯s burgeoning nuclear production program, it would be best if it were led by the United States and its NATO allies, with Israel merely playing a supporting role.
However in light of the American presidential and congressional elections scheduled to be held in early November, very few expect that President Obama would initiate such action even if Iran¯s uranium enrichment centrifuges end up completely buried deep underground (which is seemingly already essentially the case). Still, if Prime Minister Benjamin Netanyahu launches a military operation, many security analysts say they anticipate it most likely would not take place before the Jewish autumn holidays end after the first week of October. The country is always brimming with foreign tourists during the holidays, both Jews who come to see family and friends and Christians who come for the annual Feast of Tabernacles celebrations. Of course, Israel¯s enemies can initiate action at any time as well, as Hizbullah essentially did in 2006..
Among those who went on record against an IDF operation during August was former Armed Forces Chief of Staff Gabi Ashkenazi, who argued it would bring much damage in its wake and only set back the Iranian nuclear program for a short season. However senior aids to the Prime Minister noted that Ashkanazi has been engaged in a long-standing feud with Defense Minister Barak, which may at least partially explain his public opposition to any potential IDF action against Iran.
Just before stepping down from his cabinet position, Israel¯s outgoing Home Front Command Minister, Matan Vilnai, gave an interview to the Ma¯¯ariv newspaper concerning the prospects of war with Iran and its allies. Detailing some of the work his ministry has done to prepare for a possible conflict, he said the Israeli government and military are "fully prepared for a multi-front war" that is likely to erupt following any Israeli strike on Iran¯¯s nuclear facilities. He said such a "blow-back" war would probably feature multiple missile attacks upon Israeli targets, as has been stated before by Barak and other Israeli leaders. Vilnai said the Israeli military can keep up sustained operations for as long as 30 days if necessary, saying any new war may last that long (similar to the length of the 2006 war with Hizbullah forces in Lebanon). He added it would sadly feature rocket and missile attacks upon Israeli population centers and military targets every day.
The former government minister, who has been appointed Israel¯¯s new ambassador to China, revealed that officials estimate up to 500 Israelis might perish in the projected conflict with Iran and its regional allies. Many thousands would be wounded, some critically. However several Israeli security analysts said such relatively low casualty figures are probably on the optimistic side, with one noting that tens of thousands of people could easily be killed, especially if chemical or other non-conventional weapons are aimed at Israel¯¯s urban centers.
Adding to concerns that a pending war could be quite fierce, Lebanese newspapers reported that the Iranian-funded and trained Hizbullah militia held a major military drill in southern Lebanon during August. Over 10,000 armed Hizbullah fighters were said to have participated in the war drill, which would make it the largest in the militia¯¯s 30 year history. The Lebanese press reports claimed that the drill was testing the militia¯¯s ability to pour across the nearby Israeli border and cut off and then occupy the Upper Galilee region, which is home to tens of thousands of Israelis. The military drill came just days after Hizbullah¯¯s overall leader, Sheik Hassan Nasrallah, pledged in a speech that his heavily-armed militia force would join any Iranian military action in response to an IDF strike upon Iran¯¯s nuclear facilities. Many Israeli Middle East analysts say in light of the fact that Hizbullah¯¯s closest regional backer, Bashar Assad, is apparently losing his struggle to cling to power, and given the likelihood that some military action is pending against Iran, another round of Hizbullah rocket attacks upon Israel is probably inevitable.
In another sign of a possibly pending conflict with Iran and its regional allies, underground parking garages in Tel Aviv are being prepared to act as bomb shelters for those city residents who do not have one in their homes or workplaces. Municipal officials announced in mid-August that 60 garages have been approved for use as bomb shelters for some 800,000 people in the case of a missile attack on Israel¯¯s largest urban center. The municipality said it devised this solution out of concern for residents stuck without access to a shelter or a reinforced "security room" inside or near their places of residence. The municipality¯¯s website uploaded a map of the city detailing the locations of the garages¯¯which some experts said was a bad move that may give Israel¯¯s enemies new targets to attack in time of war.
FIGHTING ESCALATES IN SYRIA
Syria¯s two largest cities, Aleppo and Damascus, became totally engulfed in armed conflict during August as more military and political leaders defected to the Sunni Muslim-led revolt aimed at toppling the detested Assad family regime that has governed Syria since the 1960s. Syrian air force warplanes joined government tanks and attack helicopters as battles were fought in many portions of Damascus, still mostly under regime control. In Aleppo, rebel forces claimed to be holding many parts of the city and surrounding areas. The intensifying conflict caused the United Nations to pull its monitors out of Syria during August, saying they were no longer able to have any effect as the fighting blazed into full-scale civil war.
The United Nations confirmed Israeli and international media reports that Iran has been providing crucial and substantial aid to the besieged Assad regime in its 17-month struggle to stay in power. The UN said the Shiite Republic is providing funds, weapons munitions and intelligence support to Assad and his cronies. Iranian Revolutionary Guards are operating on the ground, establishing local militias to help back the strained Syrian military, which has been greatly weakened by many defections over the past year. The UN report states that over 18,000 people have perished so far in the conflict, many of them non-combatant civilians, with countless numbers wounded. It added that around 170,000 Syrians have fled the fighting, seeking refuge in Turkey, Jordan, Lebanon and other regional countries. Human rights groups say some 2.5 million Syrian civilians are in dire need of food and medical aid. Opposition groups claim that over 23,000 Syrians have been killed so far in the fierce conflict, three-fourths of them non-combatants.
Riad Hijab, who until recently served as Prime Minister in Bashar Assad¯¯s crumbling regime, defected to Jordan in early August, declaring he was joining the Syrian opposition movement. The Sunni Muslim official fled Damascus with his family and two other senior Syrian government officials and three army generals. In a statement he sent to the Al Jazeera Arab satellite news network, he declared "I announce my defection today (August 6) from the regime of killing and terror, and I join the ranks of the revolution." American officials and the rebel factions opposed to the regime hailed Hijab¯¯s defection. The Sunni Muslim Brotherhood movement posted a statement on its web site calling his move "a courageous expression of great nationalism."
TERROR IN SINAI
Exactly one year after eight Israelis were killed in a coordinated terror attack near the Israeli border with Egypt, Muslim fundamentalist terrorists launched another major assault in the area. Officials said a terrorist squad, probably originating from the nearby Gaza Strip, began its deadly operation by attacking an Egyptian army outpost located not far from the Rafah border crossing. After killing 16 Egyptian soldiers and wounding over 20 others during an intense firefight, the attackers stole two Egyptian armored personnel carriers which they quickly used to cross over into Israeli territory. The attackers fired anti-tank rockets at nearby Israeli soldiers who were patrolling the border area. An Israeli air force jet quickly went into action, destroying the heavy vehicle while other terrorist riding in a second vehicle jumped out and ran for cover. After combat that lasted several minutes, the bodies of seven of the infiltrating terrorists were left lifeless at the scene. No Israeli casualties were reported.
Initially it was thought that the attackers were probably Bedouin Arabs living in the Sinai who had been contracted by international jihadist groups to attack the Egyptian outpost and Israel. However it was subsequently learned that the squad crossed over into Sinai from the Gaza Strip before carrying out their audacious operation. Israeli Defense Minister Barak responded to the assault by calling upon the new Egyptian government to step up its efforts to curb the growing terrorist menace in the Sinai Peninsula. "The modus operandi of the terrorists again highlights the need for determined Egyptian action to restore security and prevent terrorist activities in Sinai. Perhaps this will be necessary wake-up call for the Egyptians to take matters in their hands in a more serious way."
New Egyptian President Mohamed Morsy wasted no time in seizing the day, declaring that "this cowardly attack will not go without a response. Those who committed this crime will pay for it dearly." After conferring with his security advisors, he quickly ordered Egyptian security forces to be beefed up in Sinai while launching a massive manhunt for any surviving terrorists. According to the 1979 Camp David peace accord, Israeli leaders must approve any major Egyptian military movement into the Sinai Peninsula. Initially such permission was forthcoming, but only for increased ground forces and the use of attack helicopters. However after Egyptian air force jets went into action against "terrorist nests" in the area for the first time since the treaty was signed, Israeli leaders called for restraint and asked the US government to intervene and halt the action. This came as the Muslim Brotherhood movement called for a "review" of the peace treaty after accusing the Israeli Mossad spy agency of somehow being responsible for the heinous attack. The Lebanese Hizbullah movement echoed the absurd charge.
Soon after the border terrorist assault was launched, President Morsi fired Field Marshall HusseinTantawi who headed the Military Council that governed Egypt after Hosni Mubarak was ousted from power in March 2011. Other senior members of the military were also dismissed from their posts. Earlier the Muslim Brotherhood movement had accused the senior army officers of plotting a coup against the newly elected Islamic fundamentalist President. Analysts say the action means that Egypt is now firmly in the grip of the radical movement that helped found the Palestinian Hamas movement in 1988.
As the countdown to a new and potentially disastrous regional war seems to gain pace, it is heartening to recall some of the end time promises that the God of Israel made long ago to His people via the ancient Hebrew prophets: "For I will set My eyes on them for good, and I will bring them again to this land, and I will build them up and not overthrow them, and I will plant them and not pluck them up (Jeremiah 24:6).
---
WATCH AND BE READY!!!
THE COMPLETE PROPHECY UPDATE DVD SERIES
(10 AMAZING DVD'S)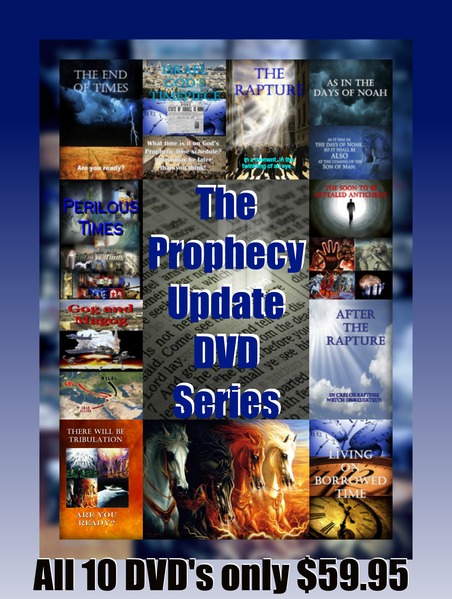 These DVD¯s are not just someone standing at a podium and speaking to an audience, they are full length docudramas just like you would see on the Discovery Channel or the History Channel. They make wonderful witnessing and teaching tools and many churches show them to their congregations and youth groups as well as using them in home Bible study groups.
¯Thank you so much! The movies changed my life. I have cried to God of my sins.¯- Carlos ¯ Canada
¯I was really blessed through watching your Prophecy Update DVD series. You are doing a great ministry to remind all Christians about the returning of our Lord Jesus Christ.¯ ¯ J. Fernando ¯ Sri Lanka
COMPLIMENT YOUR DVD LIBRARY WITH OUR INFORMATIVE AND INSPIRING PROPHECY SERIES
¯The DVD¯s were just wonderful ¯ well done! I¯m proud to show them to anyone.¯ Sandra M, Florida
ALL 10 DVD'S FOR ONLY $59.95
http://www.prophecyupdatenews.com/dvds.htm
Thank You So Very Much!
A great gift for your family or your church or favorite ministry!
---
¯

COMING SOON! - THE GREAT UNVEILING
The first DVD, "The Great Unveiling" covers chapter one of the book of Revelation. The book of Revelation is the unveiling of Jesus Christ. The book unveils his relationship to the church, to judgment and to the things to come in the future. The purpose of the Revelation is to reveal to his servants things that must soon take place.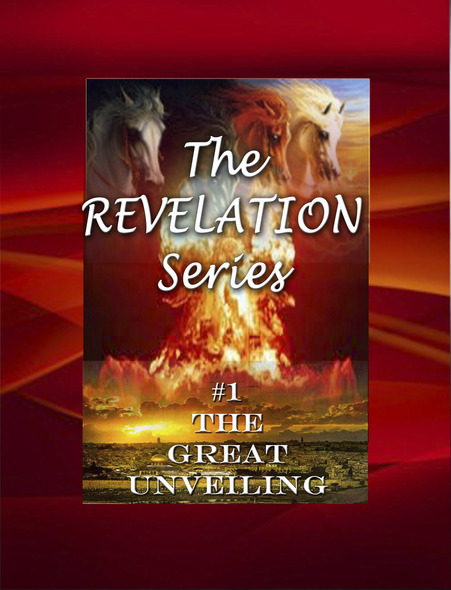 For more information and to reserve your copy of ¯The Great Unveiling¯please click the following link:
http://www.prophecyupdatenews.com/dvds.htm
---
JOHN THE REVELATOR SAW THE FIRE COMING!¯ Joseph Chambers ¯ www.pawcreek.org
VULGARITY, IMMORALITY, LYING, STEALING, AND EVERY WICKEDNESS WILL SHORTLY BE BURNED UP AND THE ETERNAL SOULS CAST INTO THE LAKE OF FIRE. The Holy Father and His crucified Son will put an end to the filth and vileness that has plagued this beautiful earth. The indescribable bliss and divine purity that graced the world in creation will fill every square inch. God is not just judging the wicked for their cruelty, but cleansing the world for the love of His saints. ¯The earth is the LORD¯s, and the fullness thereof; the world, and they that dwell therein.¯ (Psalm 24: 1) His claim will shortly be a reality.
Our present world has little understanding of what God has planned for the wicked. Nothing is as ugly as impure men and women. There are literally multitudes that live worse than dogs or hogs, wallowing in uncleanness as if it were a scented swimming pool. The Holy Scripture is extremely plain about the ugliness of sin and rebellion against God. ¯For the wages of sin [is] death; but the gift of God [is] eternal life through Jesus Christ our Lord.¯ (Romans 6:23) The Apostle Peter was even plainer than the Apostle Paul. Peter said, ¯But it is happened unto them according to the true proverb, the dog is turned to his own vomit again; and the sow that was washed to her wallowing in the mire.¯ (II Peter 2:22) A sinner is often like a dog, lapping up his own vomit. Our heavenly Father is repulsed by such ungodly living and actions.
Before John saw the fire, he heard a voice out of the heavenly temple. Remember, this is the temple that Solomon was given a design to replicate on earth. Seven priestly angels out of this temple were sent to the earth to pour out their vials of wrath. The first was a ¯noisome and grievous sore.¯ The second was ¯the blood of a dead man.¯ The third angel poured the vial upon the ¯rivers and fountains of water,¯ and they became blood. An angel then said, ¯Thou art righteous, O Lord, which art, and wast, and shalt be, because thou hast judged thus. For they have shed the blood of saints and prophets, and thou hast given them blood to drink; for they are worthy.¯ (Rev. 16: 5b-6)
Then John saw the fourth angel begin to act. ¯And the fourth angel poured out his vial upon the sun; and power was given unto him to scorch men with fire. And men were scorched with great heat, and blasphemed the name of God, which hath power over these plagues: and they repented not to give him glory.¯ (Rev. 16:8-9) The only way to understand such actions is to truly consider how vile our world has become. Try to imagine a doctor, dressed in the sparkling white of his occupation, using his skill in medicine to murder an innocent child in its mother¯s womb. With that in mind, it does not seem so gruesome to see fire scorching that white-clad physician to death.
When you multiply sin, abortion, rape, child-molestation, and all other vile uncleanness, the only answer is fire to purify and purge. A slap on the wrist is how our world has come to view the punishment of sinful living. I meet grandmothers who have more affection for their grandchildren born through fornication than those who were born in innocence. When a preacher speaks against same-sex marriage, he is called a homophobic. Quickly our world is arriving at the point in which all is relative and nothing is wrong. Choose and be happy, then never be reproved for anything.
This time of fire is absolutely necessary to change the mindset that nothing is wrong and nothing offends God. At no place in the entire Bible does it make sin and unclean living acceptable. The Bible states, ¯Then the LORD rained upon Sodom and upon Gomorrah brimstone and fire from the LORD out of heaven.¯ (Genesis 19: 24) Again it says, ¯So there was hail, and fire mingled with the hail, very grievous, such as there was none like it in all the land of Egypt since it became a nation.¯ (Exodus 9:24) When the Israelites murmured against Moses, God acted to show His displeasure. ¯And when the people complained, it displeased the LORD: and the LORD heard it; and his anger was kindled; and the fire of the LORD burnt among them, and consumed them that were in the uttermost parts of the camp.¯ (Numbers 11: 1)
The New Testament writers had no doubt that a judgment of fire was on the way. Apostle Paul warned us, ¯In flaming fire taking vengeance on them that know not God, and that obey not the gospel of our Lord Jesus Christ.¯ (II Thess. 1:8) Apostle Peter brought it closer to the End Times. ¯But the heavens and the earth, which are now, by the same word are kept in store, reserved unto fire against the day of judgment and perdition of ungodly men.¯ (II Peter 3: 7) Then again he said, ¯Looking for and hasting unto the coming of the day of God, wherein the heavens being on fire shall be dissolved, and the elements shall melt with fervent heat¯¯ (II Peter 3: 12)
The wickedness of this generation is going to be consumed with fire. There is such hatred for anyone that warns others, which clearly says the hour is at hand. It would be impossible for people to have such hatred for truth if there was not a feeling in the air that something is very near and about to happen. Deep in my heart, I know, I have no doubt, that we are living on the brink. ¯For when they shall say, Peace and safety; then sudden destruction cometh upon them, as travail upon a woman with child; and they shall not escape.¯ (I Thess. 5: 3)
The fire is coming! John the Revelator left no doubt. The first universal judgment was water, but the last will be fire. The only hope of escape is the Rapture of His Saints. If you are saved after the Rapture, you should be delighted that they will kill you. You do not want to live until the fire comes.
---
What On Earth Is God Doing- By Daymond Duck - http://www.raptureready.com/featured/duck/dd71.html
Recently, I was teaching a small group of prophecy lovers when I made the statement that our amazing God revealed prophecies 2,000 to 2,700 years ago that we see coming on the scene today. A friend with a wonderful sense of humor was in the group and he replied, ¯Yes, it¯s enough to make you think that God has the gift of foreknowledge.¯ Right! By fulfilling ancient prophecies recorded in the Bible, God is demonstrating His foreknowledge. He is proving that He truly knows the end from the beginning (Isa. 46:10). This ability to reveal what will happen before it happens is incomprehensible to all of us, but it is indisputable proof of His existence; and it is also a statement that He keeps His promises AND He carries out His warnings. Many like to believe His promises, but they prefer to ignore His warnings.
A possible economic collapse is another thing we talked about in the group. God clearly said, ¯Thou shalt have no other gods before me¯ (Ex. 20:3). He is God and He has a right to occupy first place in our lives. But, for far too long, Americans and Globalists have made an idol or a god out of their money. Again and again, the Jews set up worthless idols in Old Testament times and God always destroyed them. Our economic problems are really a reminder that God has not changed. He is still God. He doesn¯t like to be ignored, replaced or forgotten. Unless we change quickly, He is going to make our money a worthless idol.
While I am on the subject, I was discussing this with a female friend in the group. She loves Bible prophecy and is a wonderful Sunday school teacher. She reminded me that many worship the god of pleasure and society won¯t do anything about it. God may be about to take their money away so they can¯t spend it on adultery, pornography, abortions, alcohol, drugs and the like. That is another sign of the end of the age. Paul said, ¯Men shall be lovers of pleasures more than lovers of God¯ (II Tim. 3:4). God is not against pleasure. He even wants us to make Him our greatest pleasure. But He may have to bring humankind to the point of not being able to afford some of these wrongful pleasures. Having to choose between the necessities of life and pleasure will be a reminder to us that He is still God.
While I was writing the above paragraph, it occurred to me that many in the environmental movement worship the god of nature. There is nothing wrong with nature. It was given by God. But nature is not god. And this may be why nature seems to be turning against us. We need to learn that nature can also be an enemy and when we die nature won¯t be able to do anything for us. But the Creator of nature can. And He will if we have accepted His Son.
Eh . . . yes, life is interesting and God is doing a lot of things. People need to be paying attention. One way or another, we are going to learn that there is only one God.
FYI: Kindle owners can download eight of my teachings at amazon.com and I would love for you to leave a review.
Prophecy Plus Ministries
Daymond & Rachel Duck
---
Hate speech/free speech¯ Bill Wilson ¯ www.dailyjot.com
Hate speech is a pretty ridiculous concept. It generally has been applied to people, especially preachers, who quote the scriptures in opposition to the basic delights of progressive liberalism--sodomy, homosexual marriage, abortion. Whenever a preacher quotes Leviticus 18:22, "Thou shalt not lie with mankind, as with womankind: it is abomination," the news media jumps on the hate speech train. It is worse when someone quotes the second part of Leviticus 20:13 that ads: they shall surely be put to death; their blood shall be upon them." Even worse is if a preacher says America is in judgment because of the sins of homosexuality and abortion. But what if a liberal calls for the mass deaths of conservatives?
Actress Ellen Barkin, who has acted in a slew of box office ho-hums and is now a star in the "New Normal," a show that promotes homosexuality, recently let loose a tirade on twitter. She tweeted: "Shame on u@kslcom not airing @NBCTheNewNormal So L&O SVU (rape & child murder) is ok? But loving gay couple having a baby is inappropriate?" She was responding to an August 25 statement by the parent company of Salt Lake City KSL-TV that due to the show's "crude dialogue, explicit content and offensive characterizations," the company decided to "keep it off our fall schedule" because "this program simply feels inappropriate on several dimensions, especially during family viewing time."
With hurricane Isaac bearing down on the Republican Party convention in Florida, Barkin lashed out re-tweet of one of her followers: "C'mon #Isaac! Wash every pro-life, anti-education, anti-woman, xenophobic, gay-bashing, racist SOB right into the ocean! #RNC " According to LifeSiteNews.com, Barkin did not express any disagreement in her retweet. LifeSiteNews framed the tweet, writing, "In the aftermath of the Family Research Council shooting, prominent voices on the Left have not tapped down their violent rhetoric against their opponents." Followers of the news will be hard pressed to find a liberal who denounces this kind of hate speech, saying instead it is free speech.
It would be a good guess that the shooter at the Family Research Council had heard some pretty inflammatory speech in the days leading up to his attack on the pro-life, pro-marriage organization. He worked for the local radical sodomite advocacy group in Washington, DC. Floyd Lee Corkins II plead not guilty to three counts--assault, and two firearms possession charges. Hmmm...no hate crime? He said at the scene of the crime, "I don't like your politics." There seems to be a lot of hate in this world by evidence of many recent shootings. I wonder how much more is stirred up from comments like Barkin's. You can bet if Corkins or Barkin were Christians saying similar things about the left, the media would be declaring hate speech instead of free speech.
---
He Knows¯ Greg Laurie ¯ www.harvest.org
"For our light affliction, which is but for a moment, is working for us a far more exceeding and eternal weight of glory."
¯ 2 Corinthians 4:17
God can actually use persecution and hardship in the life of a Christian. Jesus said, "If the world hates you, you know that it hated Me before it hated you. If you were of the world, the world would love its own. Yet because you are not of the world, but I chose you out of the world, therefore the world hates you. Remember the word that I said to you, 'A servant is not greater than his master.' If they persecuted Me, they will also persecute you . . ." (John 15:18¯20).
If you are discouraged by your suffering, by your hardship, here are some encouraging principles to remember.
Jesus is eternal. In Revelation 1:17, He calls himself "the First and the Last." He always has been and always will be eternal, and whatever is happening to you is temporary when you who have believed in Him who is eternal. You will spend all eternity in His presence, so whatever your suffering is, it won't last forever. As 2 Corinthians 4:17 tells us, "For our light affliction, which is but for a moment, is working for us a far more exceeding and eternal weight of glory."
Jesus knows about your suffering. When you are hurting in a bad way, it is great to talk to someone else who has been there. It is encouraging to see they are still standing, they are still alive, and they have endured it. As a result, they are able to comfort you with the comfort with which they have been comforted. And one day, you will be able to do the same for someone else.
There is a beginning, there is a middle, and there is an end to what you are going through. It is not going to last forever.
---
FROM THE HEART
Without your support, there would be no Prophecy Update, please pray about becoming a monthly supporter ¯ thanks!

If ever there was a time to invest in God¯s Kingdom, it¯s now!
What on earth are you doing for Heaven¯s Sake?
"Share in the Blessings and Rewards that will last Forever!"
¯Folks, it's all beginning to unravel. America is in more danger of falling than at any time in its history. But I believe Bible prophecy predicts this very decline. From this point on, we believers have to get serious. We are going to face discouragement, disillusionment and, most certainly, persecution in the time between now and the Rapture. But don't be discouraged or disillusioned. The coming turmoil will provide us unrivaled opportunities to share the good news of the Gospel. So be ready to share your faith and your hope with those who need Christ. We still have time to reap a great harvest of souls for God's kingdom!¯ ¯ Hal Lindsey
1) We need your prayers!¯ We proclaim the Truth of the Word of God and we are under constant spiritual and sometimes even physical attack.
2) We need your encouragement!- We need to hear from you, let us know how the Lord is blessing you through this ministry so that we can share it with others.
3) We need your input! ¯ If you have a prophetic article or story or if there is a news related item we missed, let us know.
4) We need your financial support!- To put it quite simply, without your support, there would be no Prophecy Update.
I ask that you would prayerfully consider partnering with us to get the Word out and keep the world informed. Remember, your gift, no matter how small, does make a difference! You will be helping to touch lives, around the world, 24 hours a day, seven days a week, thanks to the internet your generosity carries a global impact! ¯ Thanks!
Our Prayer for You- "Now he who supplies seed to the sower and bread for food will also supply and increase your store of seed and will enlarge the harvest of your righteousness. You will be made rich in every way so that you can be generous on every occasion, and through us your generosity will result in thanksgiving to God. This service that you perform is not only supplying the needs of God's people but is also overflowing in many expressions of thanks to God. Because of the service by which you have proved yourselves, men will praise God for the obedience that accompanies your confession of the gospel of Christ, and for your generosity in sharing with them and with everyone else." 2 Corinthians 9:10-13
If you have been blessed by Prophecy Update and would like to help support this ministry financially. You can make a secure donation online by going to:
www.prophecyupdatenews.com/donations.htm
¯
Or write us at:
Prophecy Update
P.O. Box 40516
Bakersfield, CA 93384-0516
---
Today¯s Featured Article
---
The Descent Into Darkness- by Jan Markell - www.olivetreeviews.org
Joel Rosenberg calls the Middle East the "epicenter." One Bible translation calls it the "navel (center) of the earth." While your church pulpit may not focus on it, the world's media does but they don't have their lens properly focused. Because of the silence in the church, most Christians yawn at the topic. I urge you to listen up!
Some news reports say that Iran will have "the bomb" by October 1. OK, so you have "Iran fatigue." We've heard this news forever and by now it's just crying wolf. Actually, former U.S. Ambassador to Israel Martin Indyk called the whole situation "crying wolf." That is a reckless way to blow off a potentially lethal scenario.
Columnist Daniel Greenfield writes that Israel will act, and before the U.S. election November 6. He states, "The liberal West has its illusions about the enemy. Israel has little room for those illusions. It will act because it is alone as few other countries on earth are. It will act because it cannot afford to be Poland, Czechoslovakia or Tibet -- sacrificed in the great game of nations. It will act because it has no real choice but to act. It will act because for it this is not a set of talking points, a diplomatic program, or a regional agenda, it is life or death. It will act, because for all its flaws, its survival is on the line."
There are many statements that Israel can only rely on herself. In their current state of spiritual blindness, most Israelis are not willing to say that God would never allow a nuclear strike against them. And I believe He would not.
But Israel cannot be called a "cancerous tumor" much longer and be reminded that Tel Aviv will be reduced to ashes any minute without responding. British officials say Prime Minister Benjamin Netanyahu has begun a process of 'sounding out' his voters to gauge support for airstrikes and build a case for military action.
Israeli leaders believe that President Obama, locked in a close election battle with Republican Mitt Romney, would be forced to back an Israeli strike -- even though US military chiefs are against it -- for fear of alienating Jewish voters in key swing states such as Florida. Thus now is the perfect time. The golden opportunity window is the month of September when both presidential candidates are focused like a laser beam on their election.
Moving on in the region, the destruction of Syria is now in full swing. What began as a popular uprising 18 months ago is now an all-out civil war fueled by regional and global powers that threaten to engulf the entire Middle East. Reports indicate that the Syrian "rebels" are just plain old al-Qaida terrorists who are doing what they do best: Terrorize. So there isn't even a side for which we can root! It's absolute evil vs. absolute evil. And that means that absolute evil is in charge of a massive number of chemical weapons. And according to Isaiah 17, there could be an Israeli strike on Damascus at any time.
Additionally, last week Iran's ally in Lebanon, Hezbollah, held its largest-ever military exercise which can only be seen as preparation for a possible imminent war between Israel and Iran.
Thanks to the White House and the State Department in the U.S., the Muslim Brotherhood is now ensconced in various parts of the Middle East. The current regime in Washington called them a "good-old boys' club" last winter. It was suggested that the Brotherhood somewhat resembled the Lutheran Brotherhood: They focused on good deeds. It was suggested that the Muslim Brotherhood was secular and anything but dangerous. Those benign, secular do-gooders in Egypt have been tormenting political opponents and Christians and crucified at least one innocent kid. The bottom line is that they are anything but a bunch of Boy Scouts.
Islamic critic Pamela Geller writes, "Egypt's President Morsi is instituting a reign of terror to consolidate power, and if Egypt is now descending into darkness, can other Mideast nations be far behind?"
Egypt is the "King of the South" in Bible prophecy. She plays a prominent role in end-time battles which are forming alliances now.
Someone who tells the inconvenient truth as I often do is Minnesota Congresswoman Michele Bachmann. She has been raising questions about possible ties between the family of Huma Abedin, a top aide of Secretary of State, Hillary Clinton, and the Muslim Brotherhood. She and a handful of others have called for an inquiry into a potential Muslim Brotherhood infiltration within the Obama administration.
One who has tackled this issue is Andrew McCarthy, a former federal prosecutor who put the blind sheik behind bars in the first World Trade Center bombing. He is the author of The Grand Jihad: How Islam and the Left Sabotage America. He believes Bachmann has been proved right in her Muslim Brotherhood inquiries.
McCarthy states, "Congresswoman Bachmann knows Washington well enough not to be holding her breath waiting for an apology. What is really stunning and demoralizing to me, though, is that only 5 members of Congress out of 535 have had the conscientiousness and courage to stand up and be counted on this.
"We have an obvious national security problem, and it goes way beyond Huma Abedin. We have several people with significant Islamist ties being consulted by our government on foreign and domestic policy, including counter-terrorism policy. We are simultaneously seeing American policy shift dramatically in a direction that favors the Muslim Brotherhood, an avowed incorrigible enemy of America and the West."
McCarthy concludes, "Yet we can't get even one percent of our elected federal representatives to raise an eyebrow? I speak to a lot of people around the country and a lot more than one percent of them are worried about what's happening."
The Muslim Brotherhood and its affiliates are being consulted on counter-terrorism policy -- to the point that our federal agencies are purging their training materials of references to Islam.
Another who has been diligently reporting on this is Walid Shoebat. Find out more info about his efforts here ¯ www.shoebat.com
While I tend to vote for the right side of a political ticket, one can't help but wonder why this is the third Republican convention in a row to be interrupted by a hurricane! It got into gear this year just as they solidified a two-state "solution" as part of their platform last week.
Jewish Congressman Eric Cantor (R-VA) and AIPAC, the largest pro-Israel Jewish lobby, pushed for a "two-state" position to be included in the Republican platform. It was approved by vote last Tuesday (the day Isaac began) and is now awaiting formal approval at the Republican Convention. A Bachmann representative offered a one-state solution but Rep. Eric Cantor and AIPAC encouraged the two-state solution. The irony of ironies: The Christians stand for Israel, while the Jewish voices prevailed with Palestinian accommodation!
Hurricane Isaac falls on the seventh anniversary of Katrina, an event forever seared into our minds and hearts. To keep up on some incredible comparisons, sign up for White House correspondent Bill Koenig's postings and e-alerts. Find that info here ¯ www.watch.org - Bill is one of our speakers at "Understanding the Times 2012." His weekly e-newsletter is essential to understand the times.
So there you go. The pesky Middle East is just always in the way. It is always a nuisance. It is always whispering the inconvenient truth. And it's descending into darkness.
Is anybody listening?
---
If You Died Today, Would You Go To Heaven?
Find out, visit:
---
Prophecy Update ¯ GoodSearch Toolbar
http://www.goodsearch.com/toolbar/prophecy-update
Our Prophecy Update Toolbar is free to download and allows you to raise money for our cause every time you search or shop online
---
DID YOU KNOW?
You can submit an article, leave a comment or praise report at email:
---
Maranatha! (Lord Come Quickly)

"On Christ the Solid Rock I Stand, All other ground is sinking sand."

"Let Us make the short time we have left count for all eternity!"

YBIC-Randy
¯
¯
¯