Hello Firestorm:

In my travels lately, I have not been able to post any information for you about the wonderful healing oils in God's Medicine Cabinet from Young Living. Today, I felt led to bring forth some information for you regarding "Idaho Balsam Fir."

This is an incredible oil and it is one that I believe God sent to Jesus along with the Frankincense and Myrrh from the Wise Men. I have used this oil for pain, breathing issues and more. Below you will find information on the Young Living Idaho Balsam Fir Essential Oil, which I pray will help you with some of the health issues you might be dealing with. There are testimonies at the end of why and how people are using the Balsam Fir for you to check out. Blessings, bon

********************************************************************************
Balsam Fir (Idaho) Essential Oil
Idaho Balsam Fir is in the pine family (Pinaceae).There is some evidence now that the "liquid gold" referred to in the Bible was none other than Balsam, an oil fit for kings and royalty. It was one of the three oils found in King Tutankhamun's grave in 1922 and it is now thought that balsam was the "Balm of Gilead."
Balsam has been used for thousands of years as a medicinal oil for respiratory and muscular and rheumatic pain. Balsam Fir is mentioned 18 times in the Bible in 1 Kings, 2 Kings, 2 Chronicles, the Psalms, the Song of Solomon, and in the prophets Isaiah, Ezekiel, Hosea, Nahum and Zechariah.\
Therefore the scholars say that the wise men (Magi) from the East who brought gifts "fit for a king" would have brought the kingly oils of frankincense, myrrh and balsam, to honor the newborn king of the Jews.
The whole point of the story of the birth of Jesus and the recognition of the magi (wise men) from the East--is that Jesus is special--not like other men. He is a King and thus is recognized by the gifts.
Bible References to Balsam Fir Essential Oil:
2 Samuel 6:5 — "And David and all the house of israel played before the Lord on all manner of [instruments made of] fir wood, even on harps, and on psalteries, and on timbrels, and on cornets, and on cymbals."
1 Kings 5:8 — "And Hiram sent to Solomon, saying, I have considered the things which thou sentest to me for: [and] I will do all thy desire concerning timber of cedar, and concerning timber of fir."
1 Kings 5:10 — "So Hiram gave Solomon cedar trees and fir trees [according to] all his desire."
Balsam Fir Essential Oil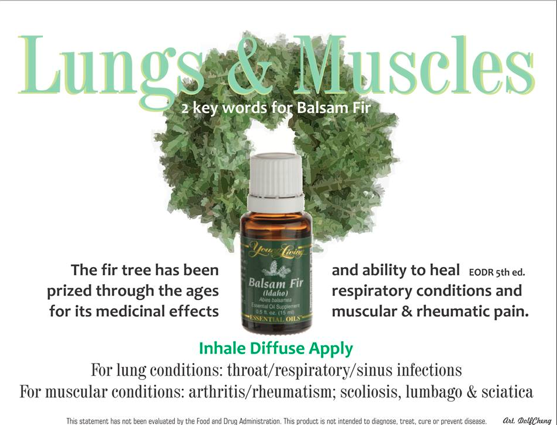 Idaho Balsam Fir Essential Oil Harvest & How to Use
The fir tree, commonly known as the Christmas tree, is renowned for its benefits to the respiratory system, as well as its ability to soothe over-worked muscles and joints. The balsam fir essential oil (Abies bal- samea) recently harvested is exclusive to Young Living and contains opti- mal levels of four important constituents: alpha pineane, beta pineane, camphene, and limonene, which give it many of its soothing characteris- tics.
Gary Young has cut, distilled and tested the fir tree during each month of the year, and has found (through testing in the YL lab) that it's medicinal proper- ties and chemical constituents were most potent during the most frigid months of the Idaho winter.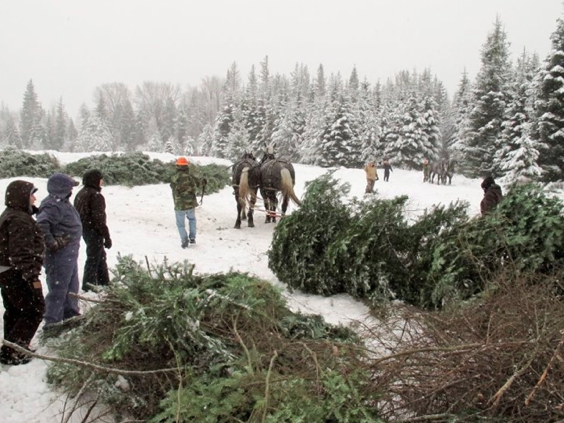 Essential oils rich in limonene, such as: lemon, orange, tangerine, and Idaho balsam fir have been shown in clinical studies to have potent anti- carcinogenic effects. According to a study at the University of Indiana (Crowell P. Prevention and therapy of cancer by dietary monoterpenes. J Nutr. 1999 Mar;129(3):775S-778S.), "monoterpenes would appear to act through multiple mechanisms in the chemopre-vention and chemotherapy of cancer." Studies using 1-15 grams a day of limonene in very advanced cancer patients resulted in almost 20% of the patients going into remission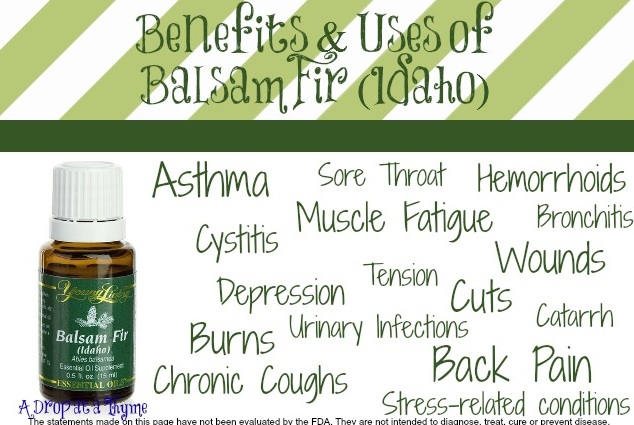 Item No. 3316 - 15 ml
Item No. 3314 - 5 ml
Traditionally used for muscular aches and pains, the warm aroma of balsam fir soothes and rejuvenates body and mind. Known for supporting respiratory function,* this herbaceous oil can be diffused for aromatherapy or diluted with a carrier oil for topical application. Also believed to create an uplifting sense of well-being, balsam fir is a 100 percent pure Young Living Therapeutic Grade™ essential oil distilled from the needles of the balsam fir tree.
This particular balsam fir comes from up on the Canadian border from Christmas tree farms that became overgrown.
Traditional Use: Balsam fir has been used for respiratory and muscular system ailments. Hildegard of Bingen referred to balsam and said it was of royal nature and advised that it ought to be used as a medicine with great caution because it was so powerful. She used it for fevers, for paralysis, and for someone who was insane by making an ointment with it and rubbing it on their temples and around the head to restore their mind and good health.
Modern Use: Balsam fir has proved to be an anticoagulant and an anti-inflammatory. It is used by many massage therapists because it is a relaxant to the nervous system and to muscle spasms. Balsam can lower cortisol levels.
Studies have shown that balsam will inhibit MCF7- (Aggressive Breast Cancer cells). Idaho Balsam Fir and Frankincense work great together inhibiting cancers in seven different cancer lines. Balsam is used for throat, lung, sinus infections, for fatigue, arthritis and rheumatism. It is also good for urinary tract infections, for scoliosis, lumbago and sciatica.
Main Effects: Idaho Balsam fir is anti-inflammatory.

Applications: This oil can be inhaled, applied neat(undiluted) on the body or diluted 1 part Idaho Balsam Fir to 1 part mixing oil. It can be diffused or taken as a dietary supplement and can be applied on location for muscle spasms.

Safety Data: Idaho Balsam fir is non-toxic.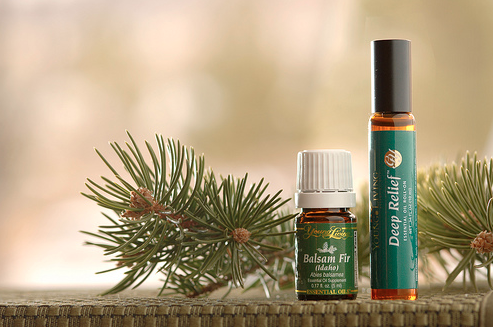 Idaho Balsam Fir also found in Deep Relief Roller Pen #3534

Balsam Fir is an ingredient in Young Living's Deep Relief Roll-On Balsam Fir and can be used for the following Wellness Solutions: supports the circulatory system, balances the respiratory, muscular and circulatory systems, boosting stamina and energy. Balsam Fir also helps to clear urinary tract infections and can be used in Raindrop Technique for spine issues such as scoliosis, lumbago and sciatica.
*************
What are the Plant Properties? Anti-inflammatory, antiseptic, astringent, expectorant, sedative, tonic and anticoagulant.
What are the Documented Balsam Fir Benefits and Uses? Anxiety, asthma, infections (respiratory, sinus, bronchitis, flu, colds, chronic cough, urinary tract), rheumatism, nervous tension, stress related conditions, wounds, sore and tired muscles, joints and tendons, back pain, sciatica, lumbago, and scoliosis.
It may reduce cortisol levels and enhance the production of human growth hormone (hGH).
What is the Aromatic Affect on the Mind? It is physically grounding and relaxing. Its sweet and clean scent has balsamic and woody overtones.
What is the Spiritual Influence? Balsam fir oil will ground the body and empower the mind. It will bring emotional balance to the mind and body by aligning the sacral and heart centers. It is good for those who get out of balance emotionally (or moody) very easily.
By the way, any of the oils that are from trees (Western Red Cedar, Palo Santo, Cedarwood, Frankincense, etc) will provide stabilization, grounding and security to our being, physically and emotionally.
Balsam Fir:
Medical Properties: Anticoagulant, anti-inflammatory.


Uses: Throat/lung/sinus infections, fatigue, arthritis/rheumatism, urinary tract infections, scoliosis/lumbago/sciatica.

Balsam Fir is very effective for soothing overworked or tired muscles. Combine balsam fir with marjoram for ligaments, and balsam fir with lemongrass for tendons and joints.

For dietary, aromatic or topical use. When using as a supplement, dilute one drop in 4 fl. oz. of liquid such as goat's or rice milk.

Fragrant Influence: Grounding, stimulating to the mind, and relaxing to the body

How to Use Balsam Fir.
Massage: Dilute 4 drops balsam fir essential oil with one teaspoon V-6 Massage Oil, or olive oil.
Directly inhale: Put one drop in palm, rub palms together, cup palms over the nose (without touching face), inhale deeply three times.

Diffuse: in a specifically made diffuser (diffusing therapeutic-grade essential oils eliminates odors, not mask, and is far safer than syn- thetic/chemical air fresheners). Never use heat as a means to diffuse as it destroys the therapeutic benefits of your high quality essential oil.
Balsam Fir ORAC Value? 20,500 µTE/100g
Why know about this number? ORAC stands for Oxygen Radical Absorbance Capacity. It tells you the antioxidant capacity of a food item. Antioxidants have shown to reduce the risk of age related conditions and cancer! This was developed by the USDA researchers. For instance: Spinach = 1,400; Clove = 1,078,700. Wow! The number for clove is NOT a typo!
What is the Genus Species? Abies balsamea
Why is this information important? It is always important to know the genus species and what part of the plant the oil is distilled from.
Remember, many companies may use a substitute species or a combination of species that will not offer the therapeutic benefit you are looking for. Even though they may share some similar properties they are not at all the same.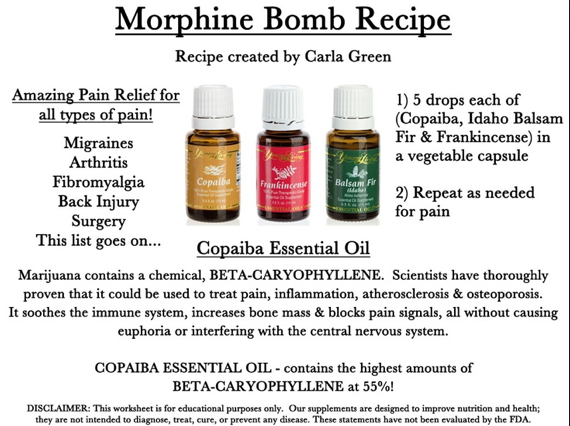 Balsam Fir Testimonials

BONE SPURS

I had a bone spur the size of the end of my thumb on the bottom of my heel which hurt like the dickens. I had tried R.C. because I had heard that it had dissolved other peoples bone spurs. But it didn't help mine. I was to the point where I was considering going to the doctor to see about getting surgery on the heel because I was tired of the pain all the time.

Then one day there was a medical doctor on T.V. and he was talking about doing laser surgery on bone spurs. So I was really interested in seeing what he had to say about it. The first thing he said was before they did surgery, they would give the patient cortisone shots and then see what happened.

What was the matter with me. Why hadn't I thought of that before? We have a natural cortisone like action with our tree oils, so I applied Idaho Balsam Fir and R.C.together on my heel.

The first night the pain was less and in three days the spur was gone and that has been over eight years and I have not had any problems since. What a relief not to have to resort to surgery and go through more pain and compromise the immune system when we have these wonderful oils to help us.

Nancy Sanderson

********

Idaho Balsam Fir is a really wonderful oil. It positively affects emotional balance, muscles and bones and nervous system. It reduces stress and lowers cortisol levels 30%. Idaho Balsam Fir is a very calming and relaxing oil that also has been helpful for many to relieve pain in overworked or tired muscles, ligaments, tendons, and joints. Many people find that it helps with back pain. Also used for burns, cuts, aches and pains, arthritis discomfort and respiratory conditions (asthma, bronchitis, catarrh, chronic coughs, sore throat, colds, flu.

*******

Idaho Balsam is an oil I will never be without again! I use it for depression, pain, and a slew of other things...Let me add that I have (had) fibromyalgia. I used Balsam from the day it came out, and now, I have about 70-90% less pain than before...I really attribute it to Balsam oil!

-- Jessica

*** *** ***

I use Idaho Balsam Fir in my massages when I run into a back muscle that will not yield to anything. Two drops and the muscle melts. If you are hurting, this would be the first oil I would grab, you may not need another.

-- Janet

*** *** ***

I have had really great success supporting my "recovering jaw issues" with Idaho Balsam Fir...I just rub a drop inside and a drop out right on the joint. I have had jaw issues for years. (I have a degree in vocal performance...and we joke that it is 'singers jaw'.) Now...I only have a twinge every few weeks or so...and two drops of Balsam kicked it! Good Luck!

-- Jessica

*** *** ***

My 13 yr old daughter was having bad pains in her stomach, enough to bring her to tears. There was no known reason. She applied Di-tone with no help, then lavender and nothing. Then she tried one of our newer oils, Idaho Balsam Fir, and within seconds of application the pain stopped. Idaho Balsam Fir has since become her favorite oil. After sharing her results with others in my family, they experienced similar"instant" help. If you don't have this oil, be sure and order it. It is on our Autoship every month so we never run out.

********

Deep Relief (contains Idaho Balsam Fir) This past weekend, I applied Deep Relief Roll-on to the neck of a disabled wheelchair-bound woman.

Due to complications from a mosquito bite that affected her nervous system 42 years ago, her neck had been tilted to the left side, very tight and painful. The response was immediate and incredible.

At first, she said she felt a burning sensation, which she said was tolerable, and about a minute or two later she was able to lift her head to a prone position which she had not been able to do for 42 years!

She then asked me to apply the roll-on to be inside of her spastic, tight hands. Immediately, her hands became more pliable, and she was able to flex her fingers.

Her eyes were filled with hope and she literally almost jumped out of her wheelchair. I wish everyone in Young Living could have seen the look of hope on her face and in her eyes. Even her aide, Patrick was astonished and mentioned that he had never seen her lift your head or be able to open her hands for the three years he's worked with her. I thank God (and Gary Young) for providing us with such wonderful products and for giving people hope, who had none apart from Young Living essential oils!

-- Lori

*** *** ***

My husband and I are amateur ballroom dancers. We will be competing this weekend, Sept 27, and 28. Last Saturday, I stubbed my toe on one of my workout weights. The toe fortunately was not broken, but very bruised and painful. With the competition so close, I worried that I would not be able to dance competitively on that foot. I have been using the Deep Relief formula on that toe and have been able to dance on it in comfort. Further, the swelling and bruising have disappeared as of today. I have every confidence that by this week-end my foot will be competition ready.

-- Michelle

*** *** ***

I have to share with you a brief story....an experience I just had with the oils. Last order I remembered to order Idaho Balsam Fir. I used it the first time this A.M. My Parkinson symptoms have gotten really severe. I have a really difficult time walking...am shuffling... so to propel myself forward....a lot of power goes into each step.....well I stubbed my toe in the process. It was the toe next to the little toe....pain....pain...Hurt so bad! I thought I'd broken it....couldn't locate the PanAway.....

Remembered hearing that Idaho Balsam Fir was good for pain. It was handy and I used it. Applied it directly on the toe....the pain was totally gone....Totally...in seconds.... that was an hour ago and the pain did not return. These Oils are miraculous....I feel so sorry for the folks that just turn a deaf ear to the amazing healing properties these oils possess.

-- Lorraine ____

Respiratory*Healing

Key Molecules of Balsam Fir Essential Oil:

Alpha-Pinene — 28-49%

Beta Pinene — 14-24%

Camphene — 13-20%

Limonene — 13-20%

Published Research on Balsam Fir Essential Oil:

HerbClip: A Case Report Describing the Use of Essential Oil Diffusion for Child's Respiratory Illness ~ Hedayat KM.

Essential oil diffusion for the treatment of persistent oxygen dependence in a three-year-old child with restrictive lung disease with respiratory syncytial virus pneumonia.

Explore. 2008;4(4): 264-266.

Essential oils are volatile liquids that readily enter the tracheobronchial tree by passive inhalation. Such oils have demonstrated properties that may suggest novel treatment approaches to respiratory disease... The balsam fir (Abies balsamea) is reputed to have strong antimicrobial action, particularly with regard to pulmonary infections.

This case review presents a three-year-old female with central core myopathy, restrictive lung disease, and scoliosis. The child was admitted to the hospital for respiratory syncytial virus, pneumonia, and acute respiratory distress.

She had an 18-day history of oxygen requirement, with acute desaturation episodes, even while receiving high-flow oxygen and mucolytic therapy.

On the eighth day of the hospitalization, the previous treatments were discontinued and an essential oil mixture consisting of spike lavender, Spanish marjoram, balsam fir, and peppermint was nebulized at the parents' request. Three drops were applied to a fibrous filter inserted into the base of a fan diffuser, and the mixture was diffused every six hours into the room for passive inhalation.

Within 12 hours, oxygen requirement was reduced, blood oxygen saturation increased, and desaturation episodes abated. On the second day of oil use (tenth day of hospitalization), the child was weaned of the oxygen and discharged home.

**************************************************************************************************************

If you would like more information on how to order Balsam Fir please contact me at:

BonnieNelP@aol.com

http://www.YoungLiving.org/BonnieNelP

My Young Living # 1172265 (Enroller/Sponsor)

615-562-2790

There are several ways you can save money and get free product from Young Living. Plus, I can help you learn more about specific oils that might help you.

Blessings, bon

*****************************************************************************************************************************************

http://www.FirestormMinistry.com

%%detect_both%%