What Will Occur September 2015 During the Blood Moon?
Many People speculate as to what may occur September 2015 during the blood moon.
The Bible does prophecy the moon turning to blood and it is always connected with Israel.
Heaven and Earth including the Moon and stars will all be aligning with Heaven during this time.
This will be the 4th blood moon in the tetrad of blood moons. Each of the blood moons this year and last year has fallen on either Passover or Tabernacles. This will be the final blood moon falling in a tetrad.
This won't happen again for centuries that this occurs exactly on the feasts in a tetrad. It has only happened seven times since Christ.
The last time it occurred was 1967/68 when Israel entered Jerusalem for the first time in nearly two thousand years. The time before that was 1949/50 and Israel was declared a nation in 1948, but they still fought for a year afterwards. (It will be the 8th time since Christ when this happens again in 2014/15)
In 2015 when the final blood moon occurs, it is also the Feast of Tabernacles and the end of the 7th Shemitah, the 7th seven year cycle that leads into Jubilee. We will be right in the middle of all the spiritual action with front row seats right smack in Jerusalem, Israel as we never like to miss an opportunity to tap into the fullness of what God is doing on the earth and especially in Israel in these exciting times.
We truly believe the glory and visitation of God will be earthshaking and life changing as we will come back from this trip completely changed and refocused with a clear prophetic direction for the days ahead on the earth!
This kind of event only happens once in a lifetime for most people.
Major world changing events could occur and the Glory of God will also be released to shift and change world events for the Glory of during this time. God promises to pour out His Spirit on His people like never before!
We have never been as excited about a trip, especially to Israel, as this trip. The space on this tour will be extremely limited in the order of when people register. Once the space is gone – it's gone.
Honestly, if you are serious about coming, I highly suggest you sign up now to hold your place with the $500 registration fee as others have done. (Then after you can send us the documents needed If for any reason you are not approved to come your money will be refunded.)
Last year was the most amazing life changing outreach and trip to Israel ever. The only sad thing was that other people (even close friends) begged to be on the trip but it was too late as every hotel was sold out. This coming trip will be even crazier and hotels/flights booked as people all over the world will be there.
If you feel the Holy Spirit calling you to be there to make history - please register today
before we are sold out which could happen any day now.
ISRAEL TOUR & OUTREACH 2015
with David & Stephanie Herzog
SEPT. 23 - OCT. 4, 2015
REGISTER NOW BEFORE WE ARE FULLY BOOKED SOON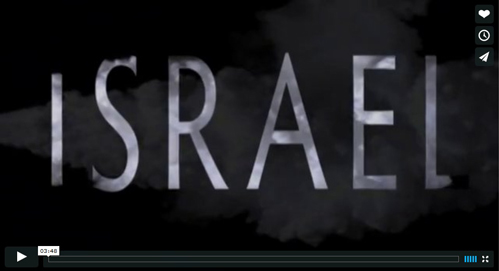 EXPERIENCE THE BLOOD MOON IN JERUSALEM WITH US!
CELEBRATE SUKKOT IN ISRAEL!
REGISTER NOW BEFORE WE ARE FULLY BOOKED SOON
DON'T MISS THE BLESSING THAT CAN CHANGE YOUR LIFE THAT COMES FROM CELEBRATING THE FEASTS IN ISRAEL!
NOW IS THE TIME - ISRAEL IS CALLING
THIS IS A ONCE IN A LIFETIME OPPORTUNITY – YOUR EXPERIENCE IS
WAITING FOR YOU THERE!

RETURN HOME COMPLETELY CHANGED - FULL OF PASSION,
AND FULL OF VISION TO FULFILL YOUR DESTINY!
GET YOUR APPLICATIONS IN NOW -
ONLY $500
TO SECURE YOUR SEAT!
THIS TOUR WILL FILL UP FAST WITH A WAITING LIST- DON'T DELAY!
REGISTER NOW BEFORE WE ARE FULLY BOOKED SOON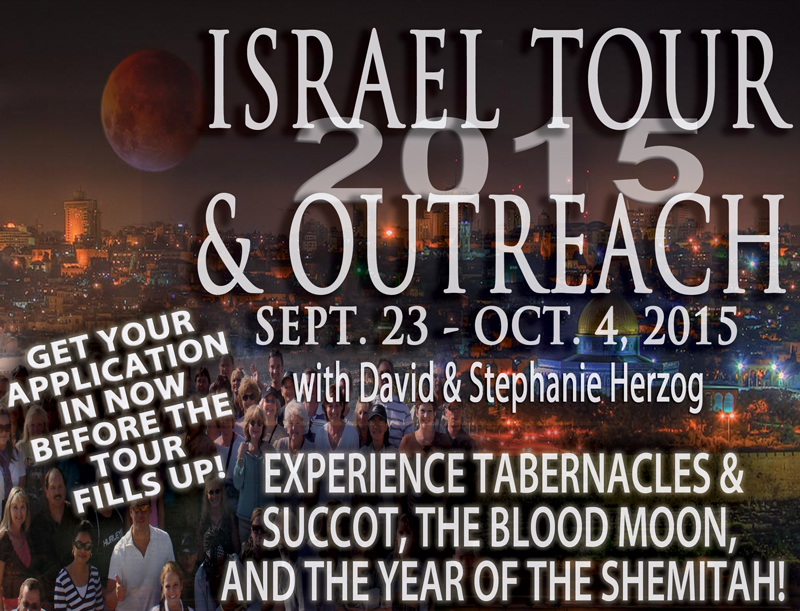 REASONS TO GO TO ISRAEL NOW:
Receive a world-changing impartation as you celebrate the Feast of Tabernacles!

Expect to receive vision for your future!

Expect to hear from God regarding your destiny!

Be a part of history in the most exciting nation of the end times!

Tap into the Israel Blessing by blessing Israel!

Pray and intercede for Israel as world events unfold

Experience ancient portals of Heaven in places such as Bethel, Mt Carmel, and Jerusalem – we are not just visiting sites, but EXPERIENCING them!

Deepen your Hebrew understanding of Biblical and historic sites

Deepen your burden for the salvation of the Jewish People

Walk in the footsteps of Yeshua and the apostles.

Go into the tunnels under the Temple Mount and visit the closest place to the Ark of the Covenant

Have communion at Jesus' Tomb and tap into God's DNA!

Receive an Elijah type mantle at Mt. Carmel

Visit the land from the highest point to the lowest point on earth

Experience Israel alongside David & Stephanie Herzog who will expose you to revelation and a glory realm that you have never heard before.
This truly is a trip like no other!
---
ISRAEL TOUR DATES – SEPT. 23 - OCT. 4, 2015

FLIGHT & LAND PACKAGE: $3,999 – Airfare included –
Round trip from New York to Tel Aviv

LAND ONLY PACKAGE: $2,549
You would need to join the group at the airport in Tel Aviv at the time of the group's arrival on Sept. 24th. You would then need to depart from the airport around the same time as the group's departure

*DUE TO THE NATURE OF THIS TRIP YOU MUST DOWNLOAD AN APPLICATION AND EMAIL, FAX, OR MAIL IT TO US.
ONLY $500 TO SECURE YOUR SEAT NOW!
(Then send us your application - Deposit refundable if not approved for any reason)

CLICK HERE TO GO TO THE APPLICATION PAGE>>



INITIAL DEPOSIT $500 TO RESERVE YOUR SPACE
GET YOUR APPLICATIONS IN NOW!
SITES WE WILL EXPERIENCE:
Caesarea
Mt. Carmel
Valley of Megiddo
Sea of Galilee Boat Ride
Caesarea Philippi
Mt. Herman - Golan Heights -

(subject to change)


Baptism in Jordon River
Mt. of Beatitudes
Bethel – Site of Jacob's Ladder
Old City Jerusalem
Upper Room
Wailing Wall
Western Wall Tunnel –

(subject to availability)


Temple Mount -

(subject to availability)


Mt. of Olives
Capernaum
The Garden Tomb – take communion there
Golgotha
Garden of Gethsemane
Rampart Walk
Via Dolorosa
Cardo Walk - Main St. Jerusalem 2000 yrs ago
Yad Vashem Holocaust Museum
The Dead Sea – soak in the Dead Sea, get a mud bath and relax!
Qumran
Masada, and more!
-Walk around and explore Jerusalem and Tiberias at the Sea of Galilee boardwalk- enjoy the shopping, and the people of the culture!
-Join us with Barry Segal for Succot Festival!
-See the Blood Moon in Jerusalem!
-Experience Glory meetings!
PACKAGES:
FLIGHT & LAND PACKAGE: $3,999
*Roundtrip airfare from New York to Tel Aviv included
Departure: Depart New York for Tel Aviv.
(You must schedule your arrival to New York at least 3 hours prior to flight time)
Return: Tel Aviv - New York departing.
LAND ONLY PACKAGE: $2,549
Make your own flight arrangements arriving into Tel Aviv before the group lands, and departing from Tel Aviv after the group's departure.
INCLUDED IN PACKAGES:
*2 nights Tiberious, 2 nights Dead Sea, 5 nights Jerusalem


*Excellent 4/5 Star Hotel Accommodations – awesome locations!
*Hotel accommodations on a half-board basis
*Delicious Israeli/Mediterranean breakfast and dinner buffets
*Air-conditioned luxury bus with bottled water
*Tickets for entrance to all sites included on the tour
*INCLUDES TIPS to guides, portage 1 suitcase, and taxes
ITINERARY MAY BE SUBJECT TO CHANGE
NOT INCLUDED IN PACKAGES:
*Lunch
*Medical & Trip Insurance (Our travel agent can help you purchase this)
*Partial Taxes & Fuel Surcharges for those flying if greater than $300.

Please include a copy of your passport with your application

You can send this to:
D.H.M.
Attention: 2015 Israel Tour
P.O. BOX 2070
Sedona, AZ 86339
EMAIL: office@thegloryzone.org
FAX: 888-605-4554
---
GET YOUR NEW 2015 DHM CALENDAR FOR ONE TIME DONATION,
OR MONTHLY PARTNERSHIP!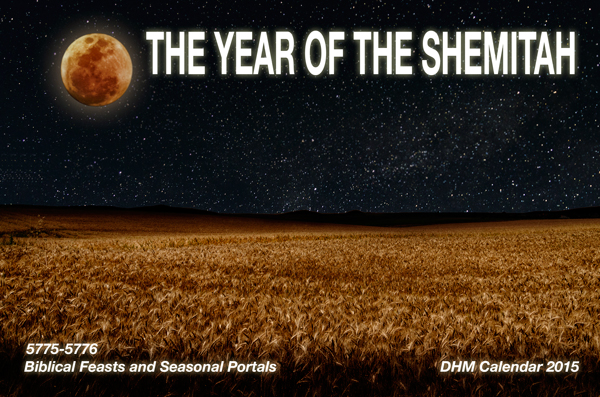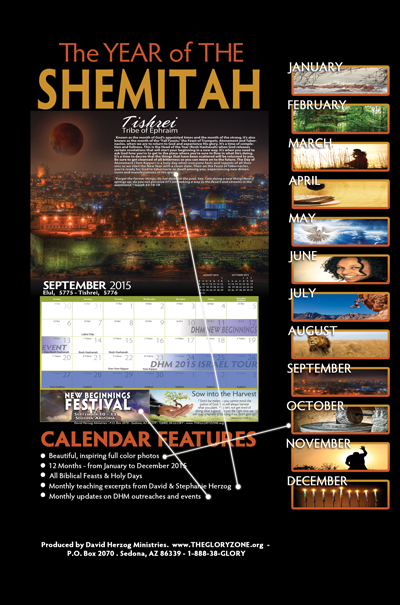 %%detect_both%%