DAVID HERZOG
UPDATE:
ISRAEL, AMERICA, USA COLLIDING-
ACTIVATING THE PASSOVER BLESSING
1 Corinthinans 1:5-8 "
Therefore let us keep the Festival, not with the old bread leavened with malice and wickedness, but with the unleavened bread of sincerity and truth.
"
********************************
LATEST NEWS:
As I write this letter I am amazed at how fast Bible Prophecy is speeding up before our very eyes.
It's Passover and again world events are coming to pass at lightning speed as the nations are aligning up with each other, or against each other, as the Bible said they eventually would.
Iran threatens to build a nuclear bomb that can wipe out Israel (and hit the US and Europe) and the US is helping them make that happen while supposedly standing with our allies to fight against Iran trying to take over Yemen this week.
On the other hand there is a new exciting harvest of Jewish souls coming in both in Israel and the US as well as in Eastern Europe.
Last year we saw amazing Jewish Salvation in our outreaches both in the USA and Israel!
My biggest concern when I pray seems to be for America. America has stood with the nation of Israel and the Jewish people for many decades but suddenly it seems this is all changing at least on a government level. Historically whenever the US or any other nation did even a tenth of what our nation has been doing against Israel great disaster resulted.
Just recently the US continued to negoiate with Iran to allow them to still enrich Uranium as the Iranian general just said again last week again that Israel must be eliminated and this it is non negotiable.
This week also America also threatened to vote agaist Israel in the UN which again we have never done.
America
also declassified Israel's secret nuclear program while allowing Iran to build theirs. Something is seriously wrong.
Our nations top leaders refused to attend Israel's Prime Minister's speech in the US which was a warning not to allow a terrorist regime to have the bomb which many middle east nations also agree would be a disaster. We snubbed our number one true ally in the Middle East while negotiating (if you can call it that) with Israel's number one enemy.
As one of my friends put it " Rome released the criminal Barnabbas as was their custom to release a criminal at Passover but crucified Jesus. It seems we are releasing Iran off the hook but crucifiying Israel for wanting to defend itself."
Yet while all this is occurring God is still on the throne and we see the prophecies of Ezekiel and others starting to come together. What this also means is the greatest harvest of souls is also about to be unleashed during the great shakings which is also prophesied. No one will be left apathetic as these events will affect everyone in one way or another but a harvest of souls and an Awakening of some sort is also coming one way or another!
ACTIVATING THE PASSOVER BLESSING
As we enter into Passover I want you to tap into the full blessing of this season that can be fully activated. Just because our nation's government leaders are not activating blessing it does not stop you from being blessed for doing the right thing.
Once activated the great favor and protection of God will be unleashed on your life no matter what is occcurring in the world. Just as Israel passed of out Egypt with great favor and protetction while the nation was being shaken to its core so can you.
Genesis 12:3

"

And I will bless them that bless you, and curse him that curses you: and in you shall all families of the earth be blessed."
Just as God was with Israel and Jesus become our Passover Lamb in the Gospels releasing the fullness of Gods protection, savlation, blessings, healing, angelic help, and more it can be released on you too. I don't know about you but I need God and his blessing on my life as much as possible to release and bless others as much as possible.
Here is what God promises can be released during this time.
1. God will assign an angel to you.
2. God will be an enemy to your enemies.
3. God will give you supernatual provision.
4. God will take sickness away from you.
5. God will give you a long life.
6. God will cause increase in your life.
7. God will give a special year's blessing.
One of the commands of the Lord during the feast or Open Heaven Season that triggers the blessing is:

"They shall not appear before the L

ord

empty" (Deuteronomy 16:16; see also Exodus 34:20).

Lets Worship Jesus, Ask Him to cleanse us anew with His blood, and give our best Passover offering during this

season as Jesus is the reason for the season having become our Passover Lamb.
I am giving my best offering as we always do this time of year expecting the new
breakthroughs in every area and I want you to experience the same.
Sacrificial giving at certain key times always releases God's great blessings in many ways. When we give to the Lord our worship and giftwith our Passover offering, He has promised the seven blessings of the Passover.
One way to tap into this is to give a special Passover Offering during this season.
• Ask the Holy Spirit what Passover sacrifical offering God is directing you to give toward into the Glory and the many outreaches we are involved with including blessings Israel and leading Jews to the Lord in Israel and America as well as the nations of the world.

*Some of you can give at least $500 or more as a one time Passover Offering. I expect God to move in your life during Passover all the way up to the 50 days leading into Pentecost! Whatever God directs you to do, don't appear before the Lord empty handed without a Passover offering.

• As you give your very best Passover offering, begin to declare the seven blessings and you can personalize them to your situation.
This

Passover season is extremely h

istoric as it also occurs during the 3rd of 4 bloodmoons in a Tetrad which are signs of major world events that will occur.
Whether or not you f

ully understand Passover at least worship God during this time thanking Him for His blood, death and resurrection asking Him to cleanse you and come before Him with a'Thank You Jesus Offering' to help spread His Message out of thankfulness that you recieved salvation.
1 Corinthinans 1:5-8 "
Therefore let us keep the Festival, not with the old bread leavened with malice and wickedness, but with the unleavened bread of sincerity and truth.
"
Click Here to your Passover Offering Now


FREE GIFT** As our way of saying thank you for your Sacrificial Passover Offering we would like to give you our 2015 Calendar. In this calendar you will have all the 12 Hebrew months with the tribes and prophetic words for each month corresponding to the biblical season and tribes as well as all the feasts, festivals and 1st fruits celebrations as well as explantions on the meanings of each month, season and tribe.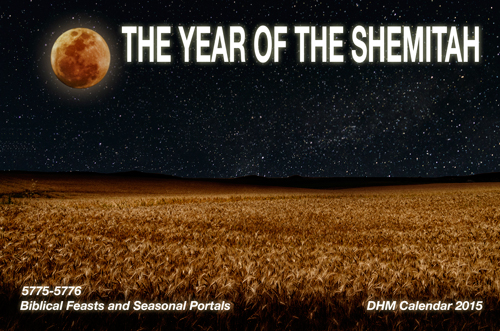 ********************************