LESSON 2-Chptr 1-EPHESIANS
Eph. 1: 1-23
Our Identity & Inheritance in Christ; Who We Are in Christ; Our Position in Christ
(Eph 1:13) in whom also you, having heard (the verb here is continuous and progressive) the Word of Truth, the gospel of our salvation, in whom also having believed (verb continuous and progressive), you were sealed (verb past tense) with the Holy Spirit of promise,
1:13 Now you (Gentiles) also have discovered yourselves to be equally included in Him having witnessed the unveiled logic of God. (The Word of truth, alethea, from a + lanthano, not hidden) What exciting news! Your salvation is publicly announced. Consistent with the promise of God, the Holy Spirit gives authentic guarantee to the fact of your faith, like the stamp of a signet ring that certifies a document. You are in Him! Mirror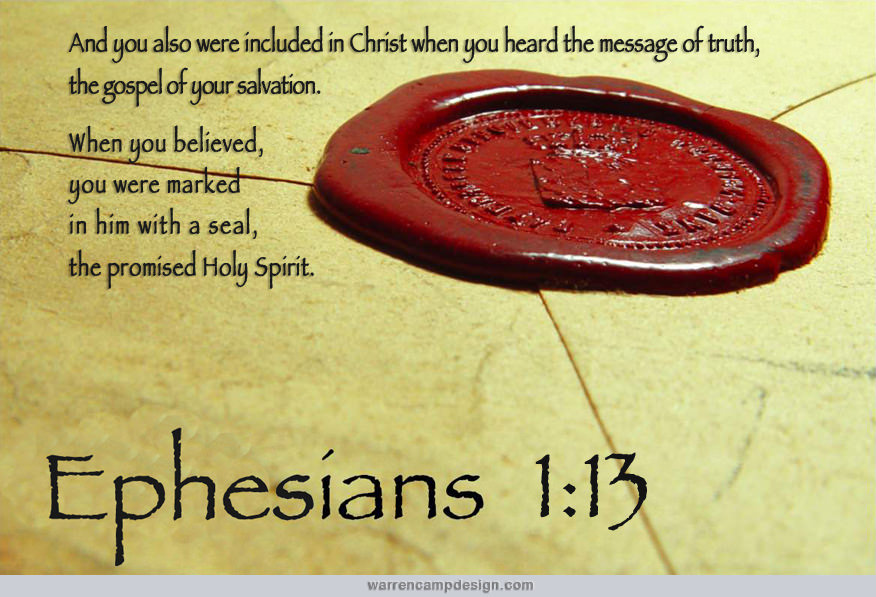 Notice the verbs having heard and having believed:
These are Past Progressive (Continuous) Verbs, meaning they happened in the past and continue. When in the past? When did you hear?
I teach you heard from the beginning and then later in this physical life accepted that, acknowledged Christ. Gen. 1:26, 2Tim.1:9, 1 John 2:24, Is. 46:10, Eph 1:4,1 John 2:11-12, 1 John 2:13-14
Paul now turns his attention from the Jews ("we") to the Gentiles ("you"). Those who have turned from paganism also have a share in the mystery of God's plan for mankind. Paul outlines the steps by which the Ephesians and other Gentiles had been brought into union with Christ.
The steps follow:
1. They heard the gospel.
2. They trusted in Jesus Christ.
3. They were sealed with Holy Spirit.
This process never changes. There is only one plan of salvation for man. First a person must hear the Gospel—the death, burial and resurrection of Jesus Christ. The word "hear" implies understanding, which is accomplished by the Holy Spirit's convicting and convincing action upon the mind and heart of the individual (John 16:7-15). The word convict means convince.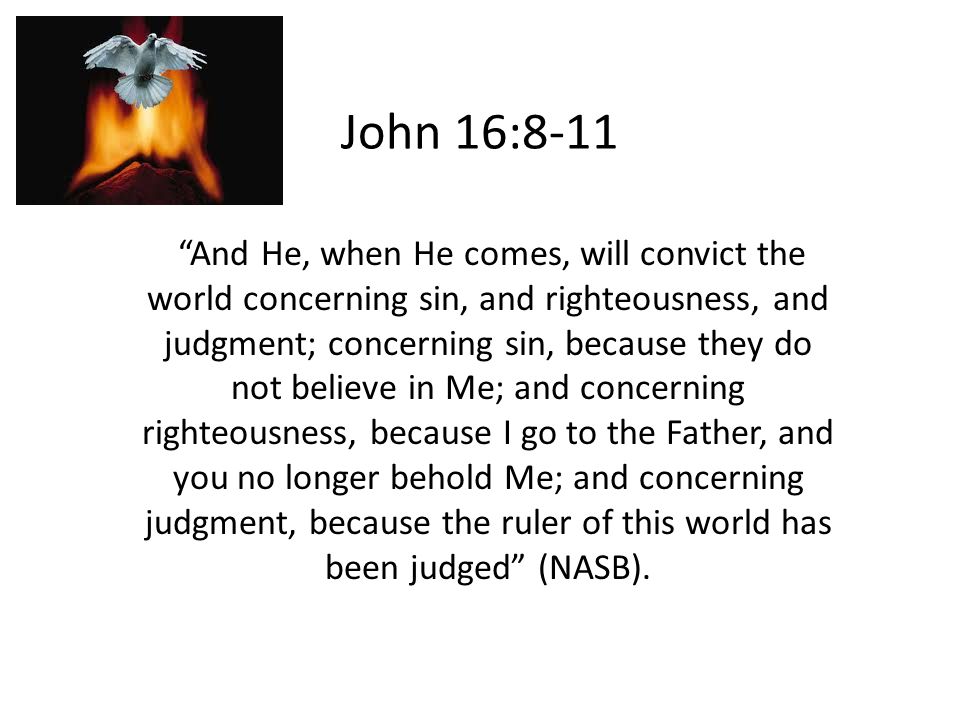 Once a person understands what Christ has accomplished for him—the fact that Christ paid the penalty-price for his/her sin/sins—he /she then may either reject or receive, acknowledge God's gift by faith alone in Christ alone. Of course, the faith of God is already in you. Gal 2:20. More on the faith (All About Faith) at http://equippingthesaintsministries.blogspot.com/search?q=Faith
These are the steps which are taught for salvation: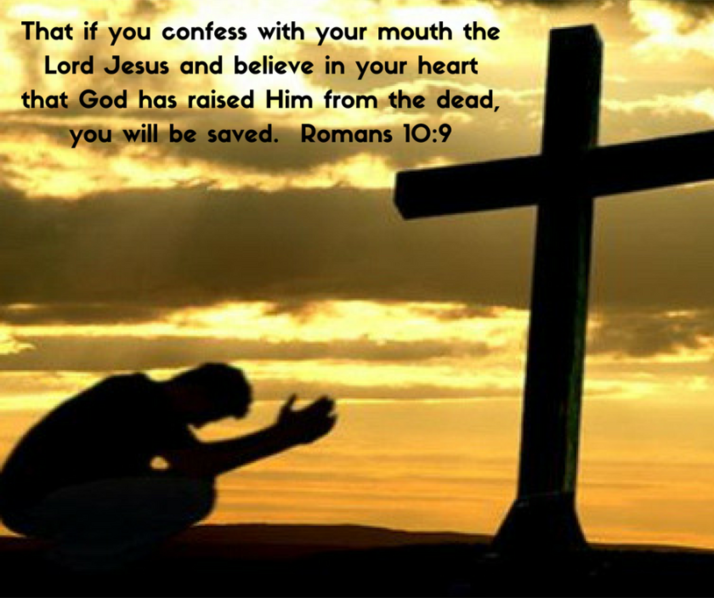 A person makes a genuine, willful decision to trust only in Christ, and not in anything else (self-efforts, good works, any institution or process), the Holy Spirit:
(1) baptizes (immerses) him into the Body of Christ and (2) seals his spirit for all eternity.
Eph. 1:13c you were sealed (verb past tense) with the Holy Spirit of promise,
"Sealed with the Holy Spirit of Promise." This means that every person who acknowledges Jesus/Yeshua in his heart. (Rom. 10:8-10), then the Spirit of God confirms and promises that he/she belongs to God and that he will be kept safe by God until the time he receives his glorified body.
Of course, you belonged to God from the beginning. However, now you acknowledge that in your heart. We are reconciled to God. Reconciliation means agree with Father God about you. Jesus came to reveal the Father. Gen 1:26; 2 Tim. 1:9 1 John 1:1;1 John 2:24 Ephesians 1:4 1 John 2:7
Then the mark of ownership is confirmed as well as the source of power for living. We're not under Law, but rather Grace, we're under no demands to keep the commandments. Jesus/ Yeshua fulfilled the law. He came to reveal all the Father has for us from the beginning. The lamb was slain from the foundation of the world.Rev. 13:8
Revelation 13:8 "And all that dwell upon the earth shall worship him, whose names are not written in the book of life of the Lamb slain from the foundation of the world."
Christ being slain from the foundation of the world illustrates not only that He was foreordained to be slain, but also that the efficacy, or the beneficial effects of that death, is the same as if that sacrifice had been made before the creation of the world. Thus, Old Testament saints are washed clean in Christ's blood the same as we are today. It was something which was as good as 'done' from the time that God ordained it. Jesus revealed all of that.
We are now under the law of the Spirit of life in Christ Jesus.
Romans 8:2 For the law of the Spirit of life in Christ Jesus has made me free from the law of sin and death.
When I say that, I get people saying; "oh that is hyper grace "Well what are you, just sort of set loose, and set free?" No, here's the difference. We now recognize we have Holy Spirit, Spirit of Christ and He becomes our rudder, guide. He convinces me of righteous and sin. It doesn't give us freedom to steal and covet, and all these other things that the Ten Commandants dealt with, because the Holy Spirit Himself takes care of that. He convinces me of righteous and sin.
John 16:8 (Holy Spirit) having come, He will convict (convince) the world concerning sin, and concerning righteousness, and concerning judgment; YLT
Gk.1651 elegchó:

convict, convince, reprove, confute, admonish
Realizing salvation is a desire to is changed. He convinces us of our righteousness and we want to live out of that righteousness, Our whole design on life is changed, and this is what the world around us cannot understand.
Just as in legal matters a seal indicates ownership and security, so it does in divine affairs. The indwelling Spirit brands us as God's property (1 Cor. 6:19, 20), and guarantees our preservation until the day of redemption (Eph. 4:30).
Our seal is called the "Holy Spirit of promise." First, He is the "Holy" Spirit, Spirit of Christ; this is what He is in Himself. Then, He is the Spirit of "promise." He was promised by the Father (Joel 2:28; Acts 1:4), and by the Lord Jesus (John 16:7). In addition, He is the guarantee that all God's promises to the believer will be fulfilled.
Verse 13 rounds out the first of many mentions of the Trinity in this Letter.
God the Father (v. 3); God the Son (v. 7); God the Spirit (v. 13) (Believer's Bible Commentary, by William MacDonald)
Questions about Trinity:
Some believe that the Doctrine of Trinity is not Biblical.
One idea that became popular among Christians around the fourth century was that of a trinity of gods. It was not, however, a new idea conceived by Christians, for there is much evidence of widespread belief in similar ideas throughout earlier recorded history.
Many scholars believe that the Trinity, as taught by Christians, comes from Plato as suggested in the Timaeus, but the Platonic trinity is itself merely a rearrangement of older trinities dating back to earlier peoples.
In Rome they were Jupiter, Neptune, and Pluto. In Babylonia and Assyria they were Anos, lllinos, and Aos. Among Celtic nations they were called Kriosan, Biosena, and Siva, and in Germanic nations they were called Thor, Wodan, and Fricco.
Trinities of gods existed in other cultures as well, including, but not limited to, those of Siberia, Persia, Japan, Scandinavia, and Mexico.
The word trinity was introduced by Tertullian (160-225 A.D.) and yet he did not teach what the trinity doctrine as today. He taught that, "These three are one substance, not one person." In his book Tertullian against Praxeas, he states that the Son was not co-eternal with the Father and that He had a beginning as the literal Son of God. He also did not teach that the Holy Spirit was a literal being. So the trinity doctrine did not even come from the man who introduced the word Trinity. This doctrine formed slowly over time and hence could never have existed in the early Church.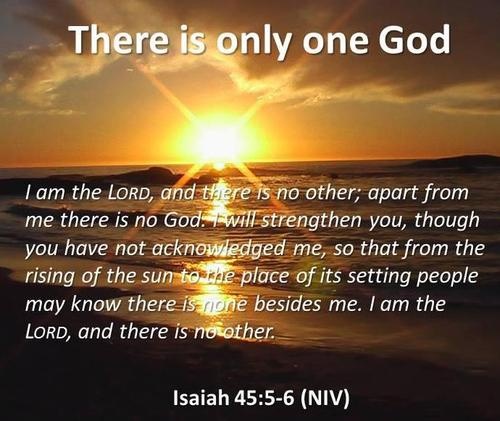 Scriptures to research:
Matthew 3:16-17; 8:29; 11:27; 12:18; 14:33; 16:16; 17:5; 27:54
Mark 5:7; 15:39
Luke 1:32; 8:28; 9:35; 10:22
John 1:18; 1:34; 1:49; 3:16; 5:19-23; 6:40; 6:69; 8:42; 10:15; 11:4; 12:49-50; 14:13; 14:23; 14:28; 16:17; 17:1-26
Acts 2:22-24; 3:13; 3:26; 9:20
Romans 1:4; 5:10; 8:13; 8:29-32
1 Corinthians 11:3; 15:28
2 Corinthians 1:19
Galatians 4:4
Colossians 1:13
1 Thessalonians 1:10
Hebrews 1:2; 4:14; 5:8; 7:3; 11:17
2 Peter 1:17
1 John 1:3; 1:22; 3:23; 4:10; 4:14-15; 5:6; 5:11-12
2 John 1:9
Revelation 2:8
Others say the Doctrine of Trinity is Biblical.

The Trinity is One God existing in three Persons. Understand that this is not in any way suggesting three Gods. Keep in mind when studying this subject that the word "Trinity" is not found in Scripture. This is a term that is used to attempt to describe the triune God—three coexistent, co-eternal Persons who are God. Of real importance is that the concept represented by the word "Trinity" does exist in Scripture. The following is what God's Word says about the Trinity:


1) There is one God (Deuteronomy 6:4; 1 Corinthians 8:4; Galatians 3:20; 1 Timothy 2:5).
2) The Trinity consists of three Persons (Genesis 1:1, 26; 3:22; 11:7; Isaiah 6:8, 48:16, 61:1; Matthew 3:16-17, 28:19; 2 Corinthians 13:14). In Genesis 1:1, the Hebrew plural noun "Elohim" is used. In Genesis 1:26, 3:22, 11:7 and Isaiah 6:8, the plural pronoun for "us" is used. The word "Elohim" and the pronoun "us" are plural forms, definitely referring in the Hebrew language to more than two. While this is not an explicit argument for the Trinity, it does denote the aspect of plurality in God. The Hebrew word for "God," "Elohim," definitely allows for the Trinity.


In Isaiah 48:16 and 61:1, the Son is speaking while making reference to the Father and the Holy Spirit. Compare Isaiah 61:1 to Luke 4:14-19 to see that it is the Son speaking. Matthew 3:16-17 describes the event of Jesus' baptism. Seen in this passage is God the Holy Spirit descending on God the Son while God the Father proclaims His pleasure in the Son. Matthew 28:19 and 2 Corinthians 13:14 are examples of three distinct Persons in the Trinity.


3) The members of the Trinity are distinguished one from another in various passages. In the Old Testament, "LORD" is distinguished from "Lord" (Genesis 19:24; Hosea 1:4). The LORD has a Son (Psalm 2:7, 12; Proverbs 30:2-4). The Spirit is distinguished from the "LORD" (Numbers 27:18) and from "God" (Psalm 51:10-12). God the Son is distinguished from God the Father (Psalm 45:6-7; Hebrews 1:8-9). In the New Testament, Jesus speaks to the Father about sending a Helper, the Holy Spirit (John 14:16-17). This shows that Jesus did not consider Himself to be the Father or the Holy Spirit. Consider also all the other times in the Gospels where Jesus speaks to the Father. Was He speaking to Himself? No. He spoke to another Person in the Trinity—the Father.


4) Each member of the Trinity is God. The Father is God (John 6:27; Romans 1:7; 1 Peter 1:2). The Son is God (John 1:1, 14; Romans 9:5; Colossians 2:9; Hebrews 1:8; 1 John 5:20). The Holy Spirit is God (Acts 5:3-4; 1 Corinthians 3:16).


5) There is subordination within the Trinity. Scripture shows that the Holy Spirit is subordinate to the Father and the Son, and the Son is subordinate to the Father. This is an internal relationship and does not deny the deity of any Person of the Trinity. This is simply an area which our finite minds cannot understand concerning the infinite God. Concerning the Son see Luke 22:42, John 5:36, John 20:21, and 1 John 4:14. Concerning the Holy Spirit see John 14:16, 14:26, 15:26, 16:7, and especially John 16:13-14.


6) The individual members of the Trinity have different tasks. The Father is the ultimate source or cause of the universe (1 Corinthians 8:6; Revelation 4:11); divine revelation (Revelation 1:1); salvation (John 3:16-17); and Jesus' human works (John 5:17; 14:10). The Father initiates all of these things.



The Son is the agent through whom the Father does the following works: the creation and maintenance of the universe (1 Corinthians 8:6; John 1:3; Colossians 1:16-17); divine revelation (John 1:1, 16:12-15; Matthew 11:27; Revelation 1:1); and salvation (2 Corinthians 5:19; Matthew 1:21; John 4:42). The Father does all these things through the Son, who functions as His agent.



The Holy Spirit is the means by whom the Father does the following works: creation and maintenance of the universe (Genesis 1:2; Job 26:13; Psalm 104:30); divine revelation (John 16:12-15; Ephesians 3:5; 2 Peter 1:21); salvation (John 3:6; Titus 3:5; 1 Peter 1:2); and Jesus' works (Isaiah 61:1; Acts 10:38). Thus, the Father does all these things by the power of the Holy Spirit.

You decide. Let Holy Spirit confirm the truth to you. God is God, whether three in One or One. God doesn't care if we are theogically correct unless it hinders faith.

We are foolish to get into agruments over doctrine.

2 Tim 2:23 Have nothing to do with foolish, ignorant controversies; you know that they breed quarrels.

We shall never disfellowship because of our beliefs. We are One.

John 16:13 When the Spirit of truth comes, he will guide you into all the truth, for he will not speak on his own authority, but whatever he hears he will speak, and he will declare to you the things that are to come.

We will continue with lesson 2 next week.

The blessings of the Lord are upon you whether by blood, adoption/sonship or assignment. The blessing of the LORD makes a person rich, and he adds no sorrow with it. Prov. 10:22

David & Mary Sue

%%detect_both%%