Greetings Firestorm:
For some time I have had a dream of doing a digital/online magazine for Firestorm. There was a time when it seemed it would never be a reality because of many different reasons, but the dream would not go away. I have to believe NOW is the time! May I encourage you to never give up on your dreams and to walk through the door when it is opened!
The purpose of the magazine is to provide a platform where all of you will have an opportunity to share your giftings with the Body of Christ. It is my prayer that more of you will step forward to share your writing, teachings, prophetic words and other things which are on your heart.
When you all began to send your articles to me, the excitement and reality of seeing my dream finally coming true filled my heart to overflowing.
It is with great joy,TODAY, I present to you the first issue of Firestorm Ministries digital magazine, The FS PROPHETIC VOICE. May you enjoy reading through all the articles in this magazine, as much as I enjoyed putting it together. Dreams do come true. Don't give up on your dream.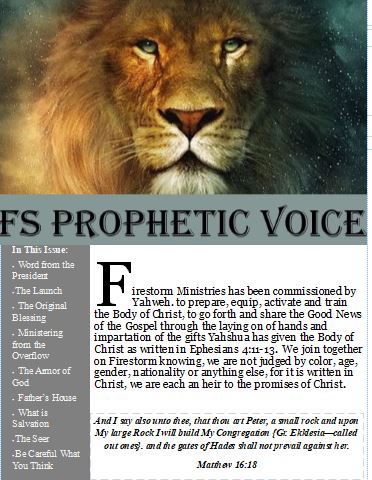 Click below and enjoy!
http://firestormministry.com/fs-prophetic-voice/
You are welcome to share the link with your friends, on your Facebook page, Twitter and so on.
I know in my heart that the "FS Prophetic Voice" is to be a voice "crying in the wilderness, prepare the Day of the Lord" and you are a part of that voice.
Please continue to send your aritcles to me at beccacard05@aol.com. We want to hear your voice!
I want to thank all of you who helped make the FS Prophetic Voice possible. Thank you for your encouragment and contributions! May Yahweh bless you richly as you check out the new magazine.
****************
Becca Card, Vice-President
Firestorm Ministries, Int'l.
205-383-8185