Cathy presently oversees the fs-prayerstorm group, which is an online, 24/7, group of prayer warriors, who pray for Firestorm members, their families and friends

online

. Contact her for prayer requests and support.

Cmlites@aol.com
*********************************************************************
2) The r

eport came in around 4:15 AM in the morning from long time Firestorm friend, Risa Utley, July 28.
"

My son in law Ronnie was airlifted to Vanderbilt around 4:15 this morning, motorcycle wreck. Head trauma, bleeding. Conscious but confused.

"
Ronnie suffered

what is called a subdural hematoma and a subarachnoid hemorrhage. Both are bleeding in different layers of the brain and multiple other injuries. His wife Brandi and Risa updated us, so we could target all the issues they were having to deal with. At one point Brandi sent this. "

There is simply no timeline for brain injuries. It is literally day by day."
She also shared: "
I also want to share my utmost gratitude at the outpouring of support that has been given to us financially, emotionally, and spiritually. I continually feel the prayers on me each day. I am humbled by the grace and favor that God has bestowed on my family. As a believer I know that God has our back, but it is such an affirmation for me to know that He loves us enough to press upon the hearts of people around us. You can't know what this is like until you go thru something like this. Thank you from every fiber of our beings for what you have done and what you will continue to do. Till tomorrow, I'm signing off and going to try and sleep

."
I guess the best way to celebrate Yahweh's touch upon Ronnie is -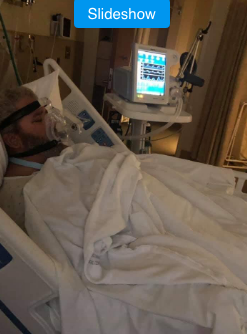 To This - August
13th - On the Way to Rehab - Hallelu-YAH!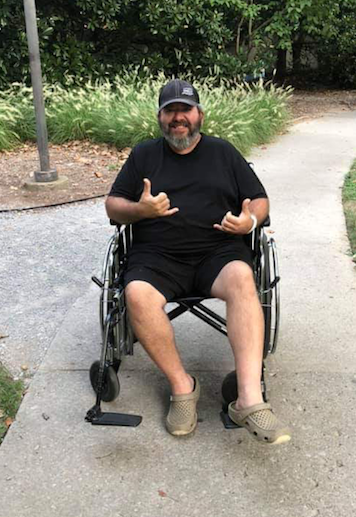 *****************************************************************
3) Prophet Jim Mellard. On the same day we received the Red Alert for Ronnie, we received a Red Alert for Jim. The original prayer request was:
Jim has two kidney stones which are located in a tight spot. He was able to get some friends to take him to the emergency room. He was in extreme pain. They will try to blast them tomorrow. They finally got him some pain meds and he said they are helping. He was exhausted and said he was going to go to sleep and try to get some rest tonight.
Jim shared he woke up with the most excruciating pain he has ever felt in his life and said, LORD what is this and immediately God said, Kidney Stones. No one in Jim's family was home, so he was able to call friends from his "church" (good to be connected in the church), Justine and John. They left church to come and get him.
On the way to the emergency room, he was sick to his stomach and still in horrible pain. At the emergency room they admitted him and after a long time of waiting for tests to reveal the issue: kidney stones, they were able to admit him and give him some pain medicine. Isn't that just like a prophet to know what is going on before anyone else? (smile) Scriptural I think.
They had to wait a couple days for the surgery, but revealed Jim had, not just some kidney stones, he had two, "quarter sized," kidney stones. Did you get that? This is not the norm and you and I both know, he would not be able to pass those babies. Interesting he said to the nurses, this pain has to be what women go through having a baby. You can imagine their comments. LOL
The doctors blasted the kidney stones and were able to bring some ease to him, while at the same time checking him on his "diet" and how much water intake he was doing. We just won't go there. Most of you know Jim will be 82 in a couple months and sometimes it is hard to get people to know how important it is to drink water and be careful of too much soda, and coffee. At this point however, I believe Jim can preach and teach on the importance of drinking water.
Jim is still sensitive in the area of the kidneys, but getting better each day. So it is good to continue to lift him up in prayer, as well as Cathy and Ronnie. They are still going "through" the healing process.
The one very important thing to add is, Becca works with transcribing medical reports and she asked her doctor if kidney stones could be the size of quarters and he said, " that is extreme and the man must have been in longtime, excruciating pain." Plus he said, "It is a wonder he was able to survive this." Did you get that!!!!! This was a life threatening attack on Jim's life and I sense, we all stood in the gap and thwarted the angel of death.
How grateful I am and I know you are too, for not only this miracle of life for Jim, but also for Cathy and Ronnie. We serve an awesome God and though I don't know why every person we pray for is not always healed, the way we want, I trust Yahweh to know best. I also know, we have an important part to play in the healing of others. We are to pray to Yahweh and release His life saving Prophetic Sword of the Spirit Words into the atmosphere of our dominion, where I know He will join us. It's that "co-laboring calling thing." Selah!
As we begin to step up and into our rightful places with Yahweh, I believe we are going to witness more signs, wonders, miracles and reports like these three. These three are not the only miracles we have experienced in Firestorm, but they all came recently, within a very short time. In these coming days, let us be more attentive to the things we need to pray together over, for surely when two or more come together we are more powerful. Get connected!!!! Check out the Firestorm Prayer Wall at:
https://www.FirestormMinistry.com
Thank you Firestorm Prayer Warriors and Oh, Father Yahweh, how Grateful and Thankful we are for YOU!