www.HealingRoomsMinistries.com & www.IsraelPrayerNetwork.com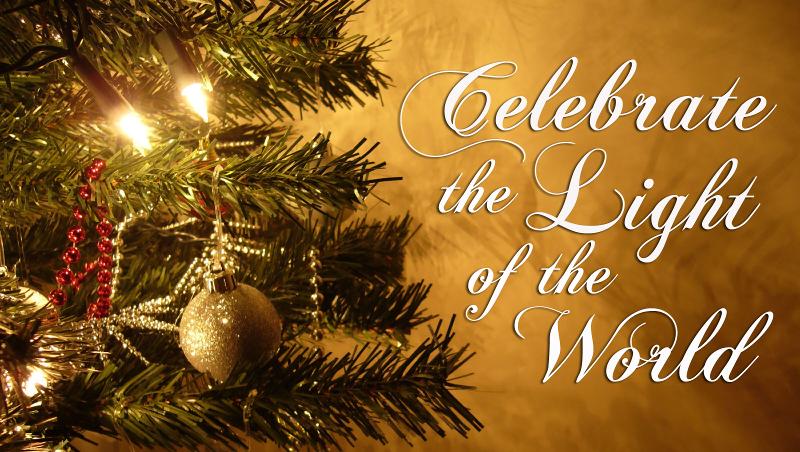 Dear Ones,
Greetings to you in the Precious Name of Jesus who truly reigns from on High!! This is a most joyous time of year, as we are celebrating the birth of Jesus, the Christ. We were reflecting on all that the Lord has done on our behalf. How He willingly gave of Himself for us that we might experience His Life.
"Behold, a virgin shall be with child, and shall bring forth a son, and they shall call his name Emmanuel, which being interpreted is, GOD WITH US." Matthew 1:23
Almost two thousand years ago in a field outside the city of Bethlehem, a group of shepherds watched their flocks beneath a starlit sky. In the quiet hush of the evening's calm, these men tended sheep just as their father's had done. Nothing in the ordinary events of their day prepared these shepherds for what would make this night like no other. On this night, these shepherds would be among the first to witness the fulfillment of God's promise to dwell with man.

Now centuries later, you and I are enjoying an abundant life because Jesus was willing to come to earth and live among us. Once again, we prepare to celebrate the greatest Gift ever given to mankind – the Gift of God's Holy Son.

This Christmas Season many of us will get together with family & friends, we will enjoy a Christmas meal, the giving and receiving of gifts and we will share in the many blessings that the Lord has bestowed upon us this past year. May we each reflect upon the many blessings that He has bestowed upon us and share those blessings with others.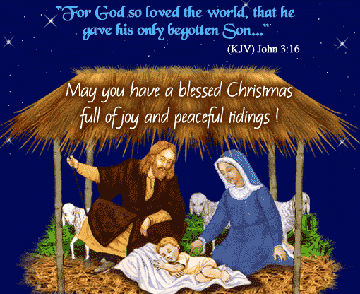 Christmas Story - The Birth of Jesus

At that time the Roman emperor, Augustus, decreed that a census should be taken throughout the Roman Empire. (This was the first census taken when Quirinius was governor of Syria.) All returned to their own ancestral towns to register for this census. And because Joseph was a descendant of King David, he had to go to Bethlehem in Judea, David's ancient home. He traveled there from the village of Nazareth in Galilee. He took with him Mary, his fiancée, who was now obviously pregnant.

And while they were there, the time came for her baby to be born. She gave birth to her first child, a son. She wrapped him snugly in strips of cloth and laid him in a manger, because there was no lodging available for them.

The Shepherds and Angels

That night there were shepherds staying in the fields nearby, guarding their flocks of sheep. Suddenly, an angel of the Lord appeared among them, and the radiance of the Lord's glory surrounded them. They were terrified, but the angel reassured them. "Don't be afraid!" he said. "I bring you good news that will bring great joy to all people. The Savior—yes, the Messiah, the Lord—has been born today in Bethlehem, the city of David! And you will recognize him by this sign: You will find a baby wrapped snugly in strips of cloth, lying in a manger."

Suddenly, the angel was joined by a vast host of others—the armies of heaven—praising God and saying,

"Glory to God in highest heaven,
and peace on earth to those with whom God is pleased."

When the angels had returned to heaven, the shepherds said to each other, "Let's go to Bethlehem! Let's see this thing that has happened, which the Lord has told us about."

They hurried to the village and found Mary and Joseph. And there was the baby, lying in the manger. After seeing him, the shepherds told everyone what had happened and what the angel had said to them about this child. All who heard the shepherds' story were astonished, but Mary kept all these things in her heart and thought about them often. The shepherds went back to their flocks, glorifying and praising God for all they had heard and seen. It was just as the angel had told them. Luke 2:1-20 (New Living Translation)

We have enclosed a beautiful song for you. Sense the 'Awesome Presence of our God'

Mary Did You Know: https://www.andiesisle.com/did.she.know.html

Mary did you know that your baby boy will one day walk on water?
Mary did you know that your baby boy will save our sons and daughters?
Did you know that your baby boy has come to make you new?
This child that you've delivered, will soon deliver you

Mary did you know that your baby boy will give sight to a blind man?
Mary did you know that your baby boy will calm a storm with his hand?
Did you know that your baby boy has walked where angels trod?
And when you kiss your little baby, you have kissed the face of God

Mary did you know, Mary did you know, Mary did you know

The blind will see, the deaf will hear and the dead will live again
The lame will leap, the dumb will speak, the praises of the lamb

Mary did you know that your baby boy is Lord of all creation?
Mary did you know that your baby boy will one day rule the nations?
Did you know that your baby boy is heaven's perfect Lamb?
This sleeping child you're holding is the great I am

Mary did you know, Mary did you know, Mary did you know

Songwriters: Buddy Greene, Mark Lowry

Christmas blessings,

Rich & Dottie

%%detect_html%%