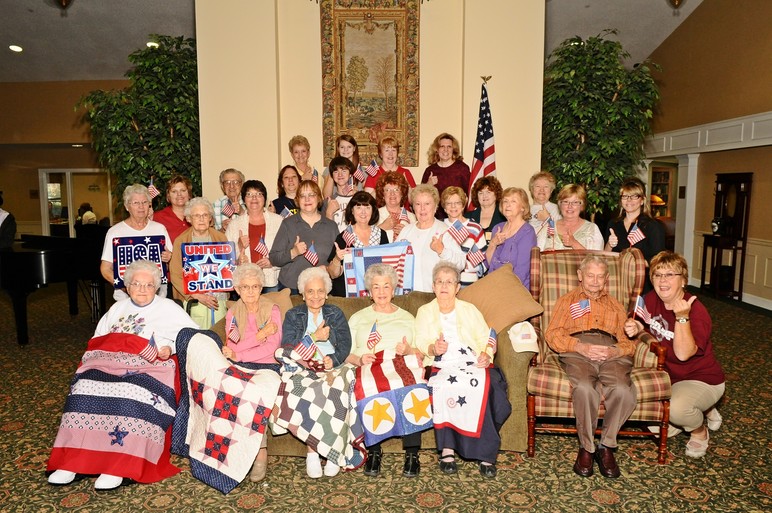 MIRACLE QUILTS NEWS ¯NOVEMBER 2010

      This past month has been an exceptional one for Miracle Quilts!    We have been the recipient of a MOST generous gift of FIVE brand new Janome sewing machines.  Now when our sewing angels come to spend the day sewing, there will be no down time trying to adjust and fix 20 year old machines.   This will enable us to spend our time sewing!

     If any of you are in the market for a new machine, Sewing Products, of Shelby Twp, Michigan is offering very deal on the JANOME MY STYLE 100.   Al is the owner.  His phone number is 586.566.4500.   He was gave Miracle Quilts a very good price on our new machines.  With Christmas coming, it would make a new sewing machine would make a great gift!
      The American Legion and Women¯s Auxilary of Royal Oak, Michigan presented Miracle Quilts with two very generous checks.  We cannot thank them enough for their support.  This enables us to purchase much needed supplies (fabric, thread and batting).
      If you are attending the November meeting, we will give you the opportunity to get a kit that has been all cut for you.   You will be able to work on that kit each time you attend Miracle Quilts.   We will have other projects there for you to work on also if you choose.

     In October, Jeff James, a professional photograph took a group shot of all the angels that attend our monthly sewing meetings.   The photo came out fabulous!   I have had copies made and they are being circulated for when people inquire about Miracle Quilts.  Each person that attends Miracle Quilts will get one.

THANK YOU¯S GO OUT TO FOR THE MONTH OF OCTOBER!!!!

*The donor that bought us the sewing machines
*Al, the owner of Sewing Products that worked with us on the prices for the sewing machines.
*The Royal Oak American Legion Men¯s and Ladies groups for their generous donations
*Steve Albert for his donation of boxes of quilting material from his mother


 
MIRACLE QUILTS WISH LIST
100% cotton fabric, cotton thread and batting

Gift cards to JoAnn¯s or Mabelina¯s Quilt Shop

 In Ortonville to purchase supplies.
 Volunteers to do quilting.

 Space in a facility in North Oakland County to       store supplies, finished quilts and set up a table.


 Miracle Quilts is a branch of Desert Angels.  Carole Carroll founded the group.   In June  2010,
We delivered 171 quilts to Walter Reed, Bethesda Naval Hospital and the US Armed Forces Home in DC.!!!! We have no dues, no meetings etc.   You can work at home or join us at Independence Village in Oxford.
We meet on the second Sat of the month. (tomorrow). We have drop in hours from 10 to 3.

DESERT ANGEL MIRACLE QUILTS

OXFORD, MICHIGAN

 

Reminder....We meet EVERY second Saturday of EVERY month @ Independence Village, 701 Market Street, Oxford, Mi. 48370 from 10am - 3pm.

Nov. 13, Saturday,  10 am - 3pm

Dec 11, Saturday,  10am - 3pm

 DESERT ANGEL MIRACLE QUILTS 

for our wounded and for our Michigan VA hospital, our homeless vet. even to our TROOPS out in the field!

Miracle Quilts is group of quilters, sewers and hard working woman of all ages who come together once a month at Independence Village in Oxford. Their mission is to create patriotic quilts to present to our wounded troops at Walter Reed Hospital in Washington D.C,. for our Michigan VA hospitals and for our homeless vets and for Troops currently serving our great country!! The quilters are honored to spend countless hours creating these quilts to present our troops for their service to our country. 

As this mission continues to grow in our community, people have been asking how they can help. The group meets on the second Saturday of the month or individuals can sew in at home.

    UTIMATE WISH-A quilting machine.

If  you have question or comments you can contact

Carole Carroll       

 MiracleQuilts@att.net    (h) 248-628-0979

 (c) 248-321-8669

    





 

%%detect_both%%