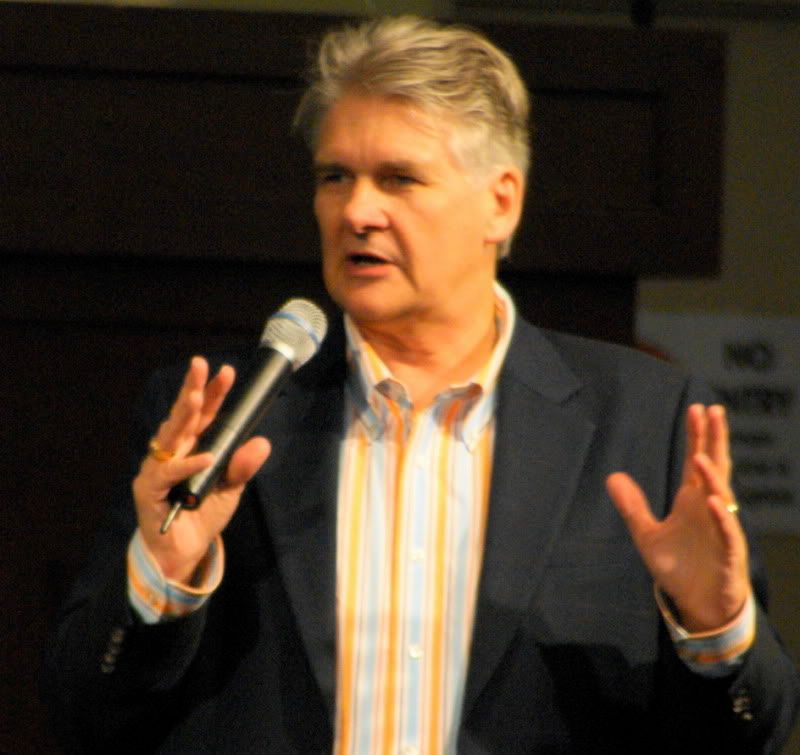 with

prophet Rusty Russell


Happy Valentine¯s Day!


Shalom!  I pray this note finds you loving Jesus and fully blessed!

As you know I was in the Hospital last year fighting a Tropical unknown disease for a couple of days but my recovery time took the whole month of December, 2010.  I had preplanned to take the month of January as a prayer and fasting month for the ministry.  Thankfully during these two months my health was restored and I was able to rest from the rigors of so many mission trips around the World. I could literally feel the presence of many of my friends who were interceding for me and praying for my recovery. Wow! This was tremendous!

Are you a Tweet?  or a Tweeter?  You can follow me on Tweeter, I am @rustyispraying!

Facebook is growing in popularity, I already have over 2,000 friends who daily receive a short note, if you are not on FB now is a good time to join, it is free and you can post pictures of yourself and family and friends. Great for networking!  Even my young 87 year old Mom is on Facebook! I try to keep her NET savy!

I am presently in Singapore and will be speaking this Month of Feb 16th - 25th.  Below please find a short schedule of times and places. You can also go to my internet calendar, link at the bottom of page to view our Calendar.  Many of these services will be healing services, if you know anyone in Singapore who needs prayer for healing, please suggest they attend the public services.  


On this trip I have been in Jakarta two times but for only 1 or 2 days, and each of those days were filled with appointments to pray for some who were sick and others who needed encouragement.  Susy and Denny were in terrible pain themselves and needed a miracle from Jesus.  Denny although he had never met me had been receiving email testimonies of those healed for a couple of years.  He would look at my calendar to see if I was coming to Jakarta.  He was scheduled to go on a business trip to Hong Kong and China. He saw that I would be in Hong Kong as well.  He changed his ticket so he could meet with his wife Susy for prayer.  They were not disappointed, both received miraculous healings. 
  Denny and Susy Adrian
When they heard I would come to Jakarta even though it was just for a day and a half, they asked me if they could bring some of their friends to my hotel for prayers.  My answer was  ~ YES! ~ Let's redeem the time for Jesus!
Jakarta testimonies:

¯I have to tell you, that my friends Ms S. & Ms. L. are very blessed by your ministry. Both told me that you are the answer of their prayer.

S. told me that she was crying out loud the day before she met you. She was so hopeless & desperately needed an answer from God. So she was so sure God answered her prayer by letting her meet you yesterday :-) At first we thought you would only pray for her son. But God worked beyond what we ever expected. Praise the Lord!

L. also told me the day before she met you, that the fear attacked her mind. When she heard about the pain of other people who suffered by cancer, she was tormented by fear. She was grateful that you ministered to her. I knew she had issue with her mom in law 15 yrs ago. But I didn't know she still struggles with that issue all these years. It's amazing how God used you to discern and dig deep down to uproot any hidden seed of bitterness. She is free today!  Thank you, Rusty!
The next time you come back to Jakarta, may we bring more friends to meet you Ps? :-)¯ Susy Adrian.

Singapore Testimony:
I was conducting my mentoring class for the prophetic here at Jurena's home, nine of us were present.  When her brother came in at the end of our meeting, I invited everyone to prophesy over his life, it was amazing, without knowing truly his condition or the hardships he was facing, each brother and sister spoke prophetically into his life, some in Chinese, others in English with translation.  At the end of it he prayed to receive Jesus into his heart and he was transformed before our eyes!  Yes, the prophetic gifts in us released have saved another lost soul!
"Rusty, I have been praying for my brother for over 40 years to receive Jesus.  Now the economy has brought him to a place where he realizes he needs help. He came asking for my help, but I know the best help he can receive would be a relationship with Jesus." J. Goh.  

Did you know you are important to me?  Yes, your good thoughts and prayers help sustain me as I minister to many and travel to Asia! Thank you.

On Sunday last I shared in the St. Andrew's Cathedral's 7 am service and the New Life Service at 7:30 pm.  One lady with a deaf ear was instantly healed and she could hear!  One lady had floaters in her right eye. After prayer she could see much better, she will testify later after she receives the confirmation from her doctor! Praise the Lord!  Several with knee, back and leg pains were healed, legs grew out, and they could walk and bend over and move their knees without pain. We praise the Lord for all these wonders!
Rusty At the Cathedral


One of the young men I am mentoring in the prophetic and healing ministry here in Singapore accompanied me in this service.  The joy I felt when the Deaconess leading the 7 AM service asked me, "Rusty, is your disciple Daniel coming with you this time as well?"  She commented that when he prayed with us last November that some of her members were slain in the Spirit and he never touched them and those members testified later they were healed!  What a joy to mentor precious brothers like Daniel Loo and see them step out in faith in the gifting Jesus has bestowed on them to help others.

 

Prophetic Hospital Visit ~ Prayers for Healing ~ Secured Trust in Jesus Power to Heal!



Not to miss out on another opportunity I had been asked by Indonesian friends to pray for a young man suffering from cancer.  Daniel and I went to the SGH to pray.  But we had to activate our prophetic radar. We had the first name, and no last name and no Ward or bed to go too.  With only 2 Abraham's registered we chose one.  YES, JESUS! it was the right Abraham.  His father later called the church members in Jakarta testifying that his son is doing better and is now trusting in Jesus for the completion of his healing.

Well, are you ready for the Something New?

I have an opportunity to change the way I send email to you.  I have joined Talk Fusion.  With this program I can record and send to you a short video email.  2 to 4 minutes in length. I have already begun to send it to a few on my inJesus list.



PLEASE SEND ME YOUR FEED BACK ONE OF THESE WORDS WILL BE FINE:


YES - VIDEO,
 OR YES ~ BOTH VIDEO AND WRITTEN,
OR YES ~ WRITTEN EMAIL



I need your help please.  DO YOU WANT TO RECEIVE EMAIL FROM ME? Would you rather read email, or see a video testimony, or both?

Some of my Singaporean friends tell me they read my mail but never respond.  That is totally okay, I know they pray for me. But now I need your feedback please.

My goal is to keep you informed, show you the mission, build your faith to believe God for miracles in your own life and for you to sense the joy and courage to be Jesus witness through the power of the Holy Spirit.


I hope you will enjoy the new format, as we try to improve our communication skills. Already this new video format is providing wonderfully news!  Do you need a prayer for healing, now I can send you a prayer via video, and you can watch many times.

The video email you will receive is NOT DOWNLOADED to your hard drive, but is streaming from a web page. Please help me by praying for our continued success. You can still respond to the to the video with a written email reply.

Our web page is always changing with new testimonies and exciting news of upcoming events!  Below please find a list of the last few public meetings here in Singapore and Hong Kong.

God bless you!

Rusty Russell








Public Meetings in Singapore:


Feb 19th FGA Youth Service

5PM - 8 PM

Playfair Road FGA Lmt bldg 3rd floor


FEB 20th Full Gospel Assembly English Service

10:30 AM - 12:30 AM

Playfair Rd FGA Lmt. bldg 3 rd floor


Feb. 20th

Church of Singapore Marine Parade

5:00 PM - 7 PM service

Please pray for me as I will be a Teaching for a week as a Visiting Professor in Bethany Intern University in Singapore, Feb. 22nd - 25th.


Feb. 25th

Glad Tidings Church Healing Service

Serangoon, Singapore

7pm - 9pm

Rusty leaves for  Hong Kong  Feb 26th - March 1st

SOS class in ICA  28th Feb

Some open time slots for Possible other meetings in Hong Kong

Please check my Internet Calendar below



Please visit on my Web page

http://rustyrussellsblog.com

%%detect_both%%