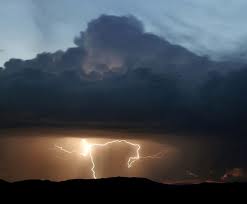 Hope in the Midst of the Storm
by Kathi Pelton


Early one morning this past April I received a call from my dad asking me to book a flight to Georgia, as my mom had fallen ill and had taken a turn for the worse.  Doctors were losing hope in the fight to save her life.  Within hours I was boarding a flight from San Francisco to their home in Ringgold, Georgia.  After arriving our family spend many exhausting and bittersweet day and nights at her bedside.  Mom went home to be with the Lord on Good Friday, while holding my hand.  Easter Sunday would have been my parents 51st wedding anniversary. 

Over the next several days we spent countless hours planning her services.  Family arrived from different parts of the country to comfort us and to say their good-byes.  By the time all the services had been concluded on Tuesday, April 26th all of us were emotionally and physically spent. 
My dad decided to spend the day after her funeral at my brotherĚs house about thirty minutes away from his home.  I donĚt think he was ready to face all the memories of my mom at their home without her there.  My oldest son and I, along with his girlfriend, stayed alone at my parentĚs house that day to rest.  Early in the day my parentĚs severe weather alarm began sounding with warnings of severe thunderstorms and hail.  We turned on the news and watched the storm tracker reveal that there was one storm cell after another headed directly our way and that they would last throughout the day and night. 
Being from California (earthquake country) we are very used to predictions that do not come to pass, but something in my gut said that we should be prepared.  Over the next number of hours we watched as storms moved through our area.  I had never seen the entire blackened sky come to touch the ground and then swirl the way we were seeing.  Then the reports changed from severe thunder and hail to tornado warnings. 
I had never been in a tornado, and what we were seeing was not one tornado but countless tornadoes, headed straight toward us.  We began to prepare to go to my parentĚs basement by collecting flashlights, batteries, a transistor radio, blankets and water.  As we moved downstairs the radio announced that a mile wide tornado with winds up to 175 miles per hour was headed directly toward us in Ringgold.   
My sonĚs girlfriend, Brittany, had been living in the south while attending university for a number of years and had faced a number of these warnings.  She was calm and peaceful through the entire ordeal.  My son has only been living in the south for the past year, so this was all new to him.  Give us an earthquake and we know what to do...get near a large object and curl up...but we were pretty sure that was not going to protect us from a huge tornado!
Soon after retreating to the basement the electricity went out and the winds began to howl.  The lightning was like nothing IĚd ever seen before.  There was no interval between strikes.  I was frightened, but Brittany sat there peacefully as if she were just waiting for the sun to rise.  The radio then began to report that the tornado had just hit downtown Ringgold and many businesses were gone. 
Finally, after many hours we received a cell phone text from my brother telling us that the last storm cell had passed and we could safely move back upstairs.  We emerged from the basement and the kids fell asleep on the living room couches.  I sat in the dark, where now an eerie calm had descended on the city, and a suffocating fear like IĚve rarely known wrapped itself around me.  I had been scared during the storms, but this was far beyond that...I felt terrified.  I was able to access a phone line and call my husband in California.  When he answered I told him to get onto the Weather Channel and find out if any more tornadoes were coming my way, because we had lost even radio stations at this point.  What if my brotherĚs text had been wrong and another tornado was approaching? 
Jeff assured me that the last storm cell had passed over our area and was now headed toward Atlanta, Georgia.  I kept saying, ĚAre you sure? Are you sure?Ě  He told me he would continue to watch and call me if conditions changed. About 2 a.m. I finally fell asleep for a few hours.  When I awoke we found out that much of the city of Ringgold was destroyed, and that over 150 tornadoes had touched down in those few hours taking over 300 lives.  The mile wide tornado that had hit Ringgold had missed our home by a little over a mile. 
Though I was scared during the worst parts of the storms, the gripping fear that hit me like a freight train came after all the danger had left.  I could say that this was just exhaustion from all the stress of the past several days, but it truly was like a Ěspirit of fearĚ hit me to keep me from finding peace when the calm came. 
The EnemyĚs Tactics
If you have been through a season of hardship or traumatic life events you will often find that there is a grace that God provides that carries you through the midst of it.  This does not mean that you are unaware or unscathed by the events, but that you are carried through them by Someone much bigger than you. 
When the storm passes and the skies above us clear, it is then the time of restoration begins.  The enemy hates restoration.  As the calm comes the enemy will often take this opportunity to try to steal your peace.  He will try to fill the quiet with lies of impending doom or with messages that say that you will never recover or be restored. 
Just like LotĚs wife, the enemy will try to get you to look back at the wake of devastation rather then look forward at the hope that lies before you. 
By the time Lot reached Zoar, the run had risen over the land.  Then the Lord rained down burning sulphur on Sodom and Gomorroh- from the Lord out of the heavens.  Thus he overthrew those cities and the entire plain, destroying all those living in the cities- and also the vegetation in the land.  But LotĚs wife looked back, and she became a pillar of salt.
Genesis 19:23-26
LotĚs wife was frozen in a pillar of salt.  Believe me, the spirit of fear is like being frozen in one place.  I only know of one or two other times in my life that a Ěspirit of fearĚ had come upon me like it did in the middle of that night.  I was frozen by fear...I was not able to be comforted or hear the voice of His Spirit clearly in those moments.  The fear of the unknown over shadowed even the voice of the One that I know so well.
Reach Out!
The enemy comes like a thief to steal your hope.  When this happens it is time to reach out to those around you.  Do not let the fear overtake you but reach out to someone who can speak truth to you and bring you back to your senses.  For me, that was my husband.  I knew that he would not put my life in danger but he would only tell me that which he was absolutely sure of. 
He not only looked on the Weather Channel but did online searches and looked at many different sources before assuring me that we were safe and I could rest.  Truth and his encouragement silenced the voice of fear that night.  The truth is that even if the tornado had hit my parentĚs home that and our lives had been taken, we would have stood before the Lord in absolute victory.  We are not without the hope of salvation even in the hardest times. 
I do not doubt that historic catastrophic events such as the tornadoes in the Southern United States or the earthquake and nuclear disaster in Japan will continue to occur until the day of our Lord, but we can find peace and hope in the midst of the storm.  If we lose that peace then we have our brothers and sisters to encourage us with truth and comfort.
Now, brothers and sisters, about the times and dates we do not need to write to you, for you know very well that the day of the Lord will come like a thief in the night.  While people are saying, ĚPeace and safety,Ě destruction will come on them suddenly, as labor pains on a pregnant woman, and they will not escape.
But you, brothers and sisters, are not in the darkness so that this day should surprise you like a thief.  You are all children of light and children of the day.  We do not belong to the night or to the darkness.  So then, let us not be like others, who are asleep, but let us be awake and sober.  For those who sleep, sleep at night, and those who get drunk, get drunk at night.  But since we belong to the day, let us be sober, putting on faith and love as a breastplate, and the hope of salvation as a helmet.  For God did not appoint us to suffer wrath but to receive salvation through our Lord Jesus Christ.  He died for us so that, whether we are awake or asleep, we may live with him.  Therefore encourage one another and build each other up, just as in fact you are doing.   1 Thessalonians 5: 1-11
Stay Connected With One Another
There is a reason that the enemy works so hard to divide the body of Christ.  It is because we need one another so very much.  The Lord knows this and that is why throughout scripture we are exhorted to encourage one another. 
Even Jesus, during his night when he was betrayed, longed for his disciples.  Just knowing that they were awake and keeping watch with him would have brought him great comfort.  Let us not be asleep in the hour of need that many brothers and sisters are facing, or will face in the days to come. 
Now is the time to nurture the relationships and connections that the Lord has given you within His body.  Find out where the Lord desires to plant you and then grow there.  Our Lord Jesus surrounded himself with intimate relationships during his time on earth and we must do the same.  Those who are in the body of Christ are the only ones that know the plans of the Father.  His plans are the truth that will carry us through and we must be encouraged by those who understand this. 
I no longer call you servant, because a servant does not know his masterĚs business.  Instead, I have called you friends, for everything that I learned from my Father I have made known to you.  John 15:15
We Are Being Restored
I mentioned that when the storms pass that the time of restoration begins.  This is true on even a larger scale.  As the things of this earth become worse and we witness more catastrophic events, we are getting closer to the time of absolute restoration.  We are moving toward the day of the Lord, when all that sin and death has destroyed will be fully restored.  Our relationship with the Lord will be complete, our relationships with one another will be complete and the heavens and earth will be made new.
We are people who embrace familiarity.  We want what we know and we fear the unknown even if truth says that it is better than we ever hoped or dreamed.  We move toward that truth in faith and yet still are tempted to do as LotĚs wife did and look back at all we are leaving behind. 
LetĚs look forward with hope.  Though the earth around us shakes violently, there is a hope set before us that is unshakable.  It is the hope of our salvation.  Restoration has already begun.  Some days it seems just beyond our reach but in those moments we must reach out to one another and to the Giver of Hope and know that He bridges the gap between hope and fulfillment.   
Going Home
During the last days before my mom went home to be with the Lord, she would often mouth the words, ĚI want to go home.Ě  The only other words that she spoke during this time were the words, ĚI love you.Ě  The Lord loved her enough to take her home.  She didnĚt take anything that pertained to this world; no worldly goods were taken to where she was going...not even her body. 
There is a longing for home like never before in the heart of GodĚs people.  We will take nothing with us but the love that we have received and the love that we have given.  Love like you have never loved before.  Love God and love your family and friends...and donĚt forget to love the stranger who is passing you by that God loves.