From the Desk of
DAVID HERZOG
UPDATE
Breaking News:
OLYMPIC STADIUM HELSINKI FINLAND EVENT!
The meetings so far have been monumental!
Not only were thousands in attendance, every single night tons of souls were flooding the altars.
We have one more meeting tomorrow!
We are reaching most of the entire nation of 5 million people via the secular media! They have been broadcasting the interviews preaching Jesus! Several famous celebrities here have come to the Lord including one that we prayed with at our hotel for salvation! We were on the national nightly news as well as the biggest entertainment shows, plus magazines, radio, and internet. They told us that we are the most known preachers in Finland and that as a result of these meetings Jesus is the main topic again in both Christian and Secular circles!
A woman who is known for crashing major events including the Finnish American Idol, threw a bottle at the stage and "crashed" the stadium meetings yelling curse words but then got saved the 2nd night!!!
Another known woman who had a scandalous affair with a known government minister causing him to step down, has testified tonight how God healed her of liver problems and other sicknesses - she had the doctors results with her as she testified live on Television proclaiming Jesus as Lord.
Yesterday a famous celebrity asked to meet with us and received Jesus! This is apart from the many souls flooding the altars each night and on the streets getting saved.
(We had to wear a hat and sunglasses the other day just if we wanted a little privacy as we walking around town as people kept stopping us. This means most people are being reached!)
Right before each meeting those who wanted to learn how to evangelize are coming, getting trained and hitting the streets - seeing many souls saved on the streets! This fire of evangelism is spreading well beyond the actual meetings onto the streets, airwaves, media, television, affecting celebrities and people on the streets!
Again tonight so many healings, miracles and amazing salvations occurred as souls just keep coming and flooding the altars!
Creative Miracles and healings are exploding!
Shock waves are being sent across Finland and soon to spread to other nations in Europe!
As war is occurring in both Israel and Ukraine not far from Finland, God is moving and invading nations with His Gospel as the Glory of God takes over the nations.
What occurs here is creating a buffer in Europe from some of the darker forces that want to see Europe engulfed in chaos. Also, as Finland is strong in revival, it will be able to continue blessing Israel in these chaotic but amazing times.
What occurs here affects Europe and even Israel as Finland is a nation where many believers have a strong love and stand for Israel.
ONE REQUEST
We have partnered with the ministry here in Finland to share half the costs. The costs are huge as you can imagine the torrent an Olympic Stadium plus the Sports Hall and not to mention the organizing, advertising, security, sound etc. We still need a big miracle to completely cover all the expenses.
If we cover all the expenses it will give people faith to keep going and take all of Finland and then other nations in Europe! The giving at this point is huge in the spirit realm as it will determine if this becomes a one-time thing or a move of God that keeps spreading! Much is at stake!
Thank you so much for doing your part to offset the chaos occurring nearby and releasing the fires of revival, souls saved and the glory of God invading Europe and Scandinavia!
Thank you for giving your best love gift so that this fire can spread and souls will continue to be saved!
As we sow into the glory where God is moving, it is the good ground that will cause huge blessings back on you as you give into what God is doing on the earth.
Will you stand with us as we are on the frontlines?
We plan to take this fresh nation shaking glory back to the USA!

Millions of souls hang in the balance.
Much of the USA's spiritual roots are from Europe and Scandinavia, and its pilgrims who settled here as well as many of the roots of our laws, customs, and language. As we bless Northern and Eastern Europe (and Scandinavia) with salvation and allow a move of His Spirit to reach the northern parts of that continent, I believe it will shift something back in the spirit for a national move of God here in the USA!
HOW DESPERATE ARE YOU TO SEE A MOVE OF GOD HERE IN THE USA?
As we pray and sow into the Harvest in Europe it will boomerang back over here and wherever you live.
HELSINKI STADIUM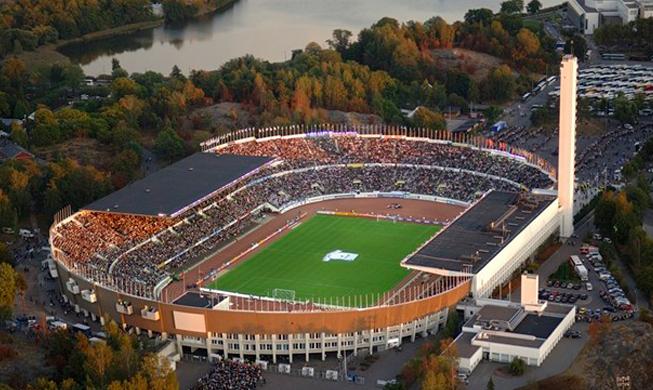 Imagine what God could do in this place shifting Europe towards God and the countless souls that could be saved with your support and prayers!
While war bells are ringing, God desires to invade Europe with a Holy Spirit breakthrough and harvest into Europe starting in one of the most northern regions of the continent in Finland!
We still need $30,000 more now for these national awakening events occurring right now!
Will you help save countless tens of thousands souls both physically and spiritually?
Would you help us reach multitudes of souls?
This is the largest event we have ever planned in 22 years of ministry in this part of the world. I believe God will also enlarge the cords of your tent and sphere of influence on the earth as you join us in giving and praying for these historic souls-winning events.
Please consider sowing your very best gift. This is the biggest harvest of souls in Europe that we have ever attempted and much is at stake!

FREE GIFT
FREE GIFT As our way of saying thank you for your gift for reaching souls, we would like to bless you with a video of the Finland meetings, with your love gift of $100 or more towards this next Outreach affecting Jews and Gentiles in Europe!
We still need massive fasting and prayer and finances.
FASTING CHAIN: If you can let us know what day you can fast for this very strategic trip - we need massive prayer coverage to win souls and for protection.
PRAYER TARGETS: Please let me know that you will start praying now for Jewish and Gentile souls to be prepared for salvation by the power of God and huge salvations to occur. Your prayers are powerful and matter.
PRAY FOR:
-$30,000 left to be raised right away
-Creative Miracles, Healings and Signs to flow in every meeting
-Tens of thousands of salvations in Finland!
-Gathering Angels to be released
-Smooth organization of these huge events
-Local believers to follow up immediately of the new souls
-Great Spirit of Faith
-Favor with both Christian and Secular Media in Finland
-Release of Big Angels (Gathering Angels, Cherubs, Seraphims, Archangels, and Territorial Angels, working in tangent with the Holy Spirit.)
-Favor with leading Christian Leaders in each nation
-Favor with governmental leaders
-Divine Appointments
-Souls, Souls, Souls, Souls!
BIND UP:
-Religious Spirits (those that oppose this event being deceived by the Father of Lies that does not want souls saved).
-Hindering Spirits
-Anti-Christ Spirits (those in the church system that are against Christ or the Anointing of the Anointed One-Jesus, manifesting in Power that only want a form of Godliness but deny the Power).
-Witchcraft
-Powers of the Air
-Territorial Spirits
-Secular Humanism
-Take captive every thought over the unbeliever's and "believers" with a religious spirit mindset against the power of God manifesting to save the lost.
*Please email back letting us know you are praying: office@thegloryzone.org
GIVE GENEROUSLY:
Some of you can give $500, $1000, $5000 or more.
Some of you can give more, and some less-
Every amount counts towards souls!
Thank you for joining with us by including your generous love gift today.
THANK YOU SO MUCH FOR YOUR PRAYERS THAT MADE ALL THIS POSSIBLE!
Together in His Harvest,
David & Stephanie Herzog
JOIN US IN ISRAEL!
HURRY – GET YOUR APPLICATIONS IN NOW
TO RESERVE YOUR SPOT!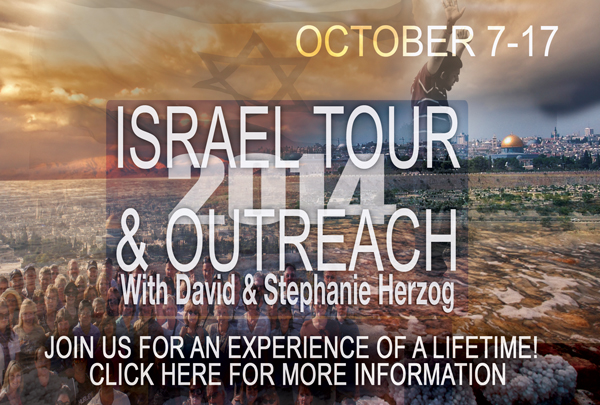 DAVID HERZOG MINISTRIES

PHONE: 928-282-9030

EMAIL: office@thegloryzone.org

WEBSITE: www.thegloryzone.org

MAILING ADDRESS: P.O. BOX 2070 SEDONA, AZ 86339

%%detect_both%%