Hi - this is a re-send from our JoelandKathy4 account.
We were just alerted that our joelandkathy@joelandkathy.com email address is returning emails undeliverable.
We will attend to that in the next few days.
We want to make sure that anyone who receives this can communicate back to us by hitting "reply!"
Greetings from Joel and Kathy Davisson
"The Man of Her Dreams/The Woman of His!"
GodSaveMyMarriage.com
Would you please help us out by clicking on these ten links?
We are needing a "boost" on google and just clicking on them will help a LOT!
We really are in NEED of EVERYONE who gets this newsletter
to help us out in this way. Thank you!

Click 3 to Worry Less, Live More
Click 6 to Outrageously Happy Marriage PodCast
Click 7 to About Joel and Kathy
Click 8 to Abuse Among Christian Women
Click 9 to Our Profile on Brand Yourself
Click 10 to Divorce in the Church
Do you need a Miracle in your Marriage?
Five Day Weekend Marriage Intensive starts in 10 days,
on August 19, 2015.
Call to Register now! 386-206-3128
August 19-23, 2015 in Beautiful Palm Coast, Florida
Your Miracle Destination!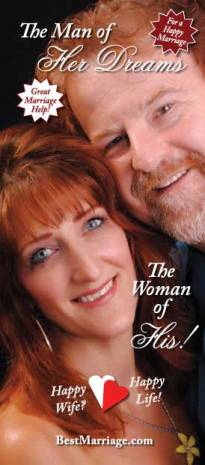 -----------------------------------------------------------------------------------------------------

Read "The Man of Her Dreams/The Woman of His!" and "Volume 2: Livin' it and Lovin' it!" Find the books at the top of the shopping list at The Man of Her Dreams/The Woman of His!

See over 500 Testimonies from Couples JUST LIKE YOU at: 500 Testimonies!
For a PDF of a BOOK of 500 Testimonies, Click Here: Book of 500 Testimonies!

See Details of the Five Day Weekend Marriage Intensive: Intensive Weekend Details
Register Today at: Register Now!

Group Marriage Mentoring Phone Calls! Five nights per week! 857-232-0476 pw 544475. Sundary night at 9 pm. Monday, Tuesday, Thursday and Saturday nights at 10 pm. Click Here for More Details!

Shop for all of our books, CD's and DVD's in our online shopping store at
The Man of Her Dreams/The Woman of His! Online Ordering
or, if you prefer, you can shop at Amazon.com:
Click Here For "The Man of Her Dreams/The Woman of His!" Volume 1 on Amazon
Click Here for "Livin' it and Lovin' it!" on Amazon
Click here for other of our products on Amazon

Learn how to protect your family by watching "Our Videos" at Protect Your Family Today

21 Days To Save My Family! CHECK OUT THIS WONDERFUL NEW BOOK by Erik Matlock! Erik and Geri's marriage was in a shambles. Geri wanted out and she deserved a new life! Just like Kathy though, she got her life in the form of a TRANSFORMED HUSBAND! If Joel and Kathy can do it, if Erik and Geri can do it, SO CAN YOU!
To Discover this WONDERFUL NEW E-BOOK on Kindle, Click Here!
To Discover this E-BOOK for reading on your computer, Click Here!

Please partner with us! If you believe in what we are doing to help couples all over the world (see the 500 testimonies) please consider partnering with us. In God's economy, when you give to help a ministry, then you get "credit" to your account for the miracles that God works through that ministry! You "partner" with us in accomplishing the mighty works of Miracles that God does through the ministry!
To Give to the ministry without a tax-deductible giving receipt. Go to this page and scroll down to mid-page where you see the "Donate" button: Click Here
To Give via using a Credit or Debit card or PayPal Account WITH a tax-Deductible receipt Click Here
To give over the phone via Credit or Debit Card with a Tax-Deductible Receipt, Call Marsha at 386-547-5729
To Mail a Check with a tax-Deductible receipt, Mail to: The Church of Champions, 244 Pine Grove Drive, Palm Coast, FL 32164

Want online help for your marriage? Visit GodSaveMyMarriageForums.com

===================================

Please take advantage of the many products that we offer at our Shopping Cart.

We appreciate you and send our love to you!

Joel and Kathy Davisson GodSaveMyMarriage.com BestMarriage.com
244 Pine Grove Drive
Palm Coast, Florida 32164
386-206-3128

%%detect_both%%