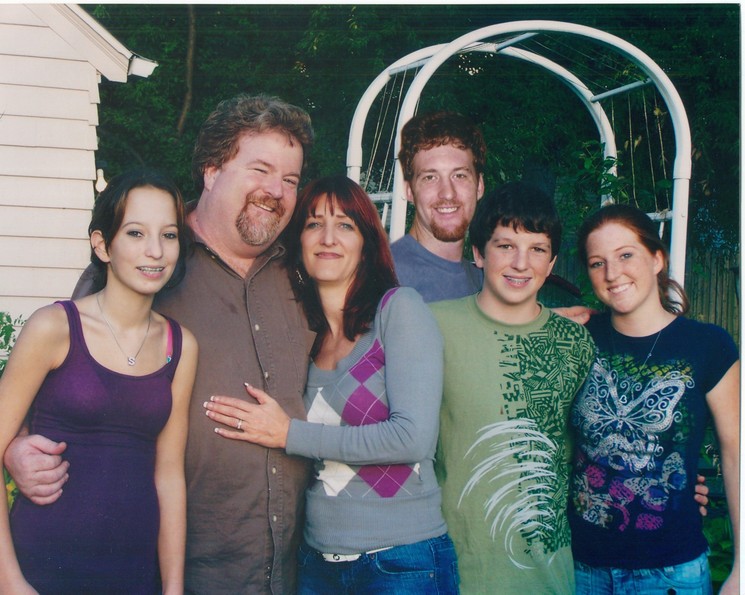 Children grow best in a happy, happy home!
When you have a great marriage, and make sure that life is fun, then your children will have great memories! Our daughter, Jenifer, is now 25 years old. When she was five, we were in the midst of our major marriage dysfunctions. When Jenifer heard us sharing about some of our marriage challenges from when she was little, she said, "Wow. I don't remember anything like that. All that I remember is having a great childhood!" Talk about making a parent's heart sing! What made that possible?
We shared this with a friend via email and she replied with this piece of gold:
That's great!! My 19 year old daughter can relate. She is a great kid! I had her when I was 21, her biological father was never there!!! Raised her until she was 6 then married my husband, he adopted her, and then we had 2 more girls! She remembers the biological dad not being there, but just knows that her "Daddy" took her in as his own the day he met her! It is a really sweet love story, my husband told me that he could not change my past, he could only change my future!! Those were the sweetest words any man had ever told me….
My 2 littles ones are wild too, but I have to admit, I let them be noisy, get dirty, be crazy, but I don't let them be ugly to anyone, be rude or be mean. The only way to be in my book. Plus I'm too old to care LOL
I love my life!
Amber C.
Shekinah's birthday is today, October 8. Shekinah is the brunette on the left, in the family picture above. In our mind, time stands still. We still enjoy our memories of our beautiful 13 year old Shekinah Glory. Today, I (Joel speaking) was out by our pool, doing some work. A 14 year old neighbor girl, who looks remarkably like Shekinah, just happened to be outside with a friend, just hanging out, about 100 feet from where I was sitting. It was such a gift for me, on Shekinah's birthday.

Yes, Shekinah would have been 21 years old today. (Yesterday, for most of you reading this now. We had technical dificulties getting this newsletter out on Thursday.) One thing that we both feel so good about, is that we know that Shekinah had an absolutely amazing, wonderful 13 years on planet earth. Almost 14 years as she went to heaven less than a month away from her 14th birthday.

Why do you need to get your marrige to be outrageously happy? Because your children are being affected! They are learning by being in your orbit. They are being impacted and molded by the love that you experience in your marriage, or by the lack thereof. Shekinah had an amazing, amazing childhood. Her parents were madly in love with each other and madly in love with her, her sister and her two brothers. She grew up in an atmosphere of love.

When Shekinah Glory went to be with the Lord in September of 2008, one of our very close friends of many years walked with us through those painful days. (Well, many friends walked with us through it.) The author of the following poem is that friend who we first mentioned. We married she and her husband many years ago, 1995, if I recall the year correct.

Eight months after Shekinah went to heaven, our friend had a vivid and beautiful dream of heaven, Shekinah and the Lord. She wrote this poem about her visit to heaven and seeing Shekinah. The poem won first place in the Western Mountains Reading Council Poem/Essay contest. Over seven years later, Shekinah's life is still reaching, still touching. We believe that our friend's writing will win first place in your heart!

Once You Left
Who around felt the grief emanating from within me,
it saturated and seeped out to the point that it lingered on, on and on.
One thing known; it felt like an eternity.
In the eighth month I saw you again. The eighth month I was renewed.
It was the eighth month of the dream, the vision and the return of joy.
Awakened from a deep slumber;
The lingering question captivated every thought. No answers were found.
I left. I left and ascended high to find you sitting next to Him.
No longer asleep but alive. Alive. Aware.
Not a vision, not a dream? Reality.
A voice spoke "Stay?" Clearly, clearly in that moment,
more clearly than my own voice the reply came.
You spoke. You spoke with certainty.
You chose to stay, and it was then that I was awakened again
but to the choice of eternity.
It was more powerful than a choice given by an earthly vessel.
I watched you dance. Sing. Then wave, wave goodbye one last time.
I left. I left to return even though the sight was persuading.
The sight was peaceful. The sight was a dream. The dream was real.
That leaves me speechless -
but we do have to advertise the upcoming Five Day Weekend Marriage Intensive..
so, I am so sorry to break the moment.. but:
Our Next Five Day Weekend Marriage Intensive
is October 21-25, 2015, in beautiful Palm Coast, Florida!
To learn more, please go to www.GodSaveMyMarriage.com and click on the link for the Itinerary or on one of the links for the 5-Day Marriage Intenisive.
To register for the 5-Day Marriage Intensive, go to www.JoelandKathy.com/cart
Look for the $395 price in the price list.
That is the deposit. You will pay the balance when
you arrive in Palm Coast!

If you need a MIRACLE in YOUR marriage, then be here, in Palm Coast, October 21-25. Your life will never be the same!

Testimony
Here is a nice testimony that we just received in our inbox this week.
Robert and Elizabeth were impacted by our books, DVD's, help on the phone and a live four day seminar that we conducted at a wonderful local church in San Antonio, Texas about 5 years ago. (Our Father's House)
Joel and Kathy,

I wanted to take the opportunity to say Thank you! You two saved our marriage. Though it had not quite come to the point that (names removed) now find themselves at, as you may remember it was really horrible.
Thank you again, with all our hearts...your instruction and caring for us were the beginnings of a marriage miracle for a marriage that was basically over until then.
Asking our Lord for his greatest blessings upon both you and yours.

Bob
Final Thoughts from Kathy
Each one of us have unique talents specifically
designed for us individually.
We add color to the world because we are uniquely made. Lol. smile emoticon
No two people are the same.
So we can all say "I'm special." Which is true.

1 Peter 3:7
Likewise, ye husbands, dwell with them (your wife) according to knowledge, giving honor unto the wife as unto the weaker vessel and as being heirs of the grace of life; that your prayers be not hindered.
Your have the perfect wife with the perfect needs, to push you out of your comfort zone to be the man God has called you to be. You become that man, by becoming the husband your wife needs you to be. ie: Husbands love your wife like Christ loves the church! Eph,5

Dwell with YOUR wife according to knowledge. Get to know YOUR wife. She is the one who is important. Not your neighbors wife. Not Your best friends wife. Not your bosses wife or any other woman.

Your wife may like red roses, but another man's wife, may not. She may like yellow or blue roses. Your wife may like motorcycles, while another man's wife may not.

Get to know YOUR wife.
Find out what she likes and what makes her unique and special.

Christ did and does that for us.
Christ, the husband, wants to get to know us, the Bride.

Do that for your wife. Be that earthly extension of Christ for your Bride, allowing Christ to live and Love through you to the Bride, just like he loves us, as His bride! We ARE the Bride of Christ.

The Bible promises that the seeds that you sow, you shall also reap.
So, Let's not settle for 2nd best in our Marriages.

Husbands, you CAN love your Bride like Christ loves his Bride.

And Brides, you CAN learn to come from a place of strength when you feel hurt by your husband. You can help your husband learn how to love you and you can respond positive when he does!

You can have an Outrageously Happy Marriage.

Not all of us were taught how marriage should really be when we were growing up. So it's a matter of learning and being teachable to get the outrageously happy marriage that God has for you.
Marriage Mentoring Phone Calls - FREE!

Feel free to dial in to our Marriage Help Conference calls

Sundays 9pm eastern
Mon, Tues, Thurs and Saturday Nights at 10 pm eastern
857-232-0476
Code: 544475

We look forward to helping YOU!
ORDER MARRIAGE HELP PRODUCTS?
To order books, DVD's, CD's or to register for
YOUR 5-Day Weekend Marriage Intensive,
please go now to www.JoelandKathy.com/cart/
PS: LegalShield!
We can't fail to mention LegalShield. In 1996, when our four children were young, a gal at a grocery store stopped us with a compliment. "Such beautiful children. I know this might seem like an odd question in a grocery store, but have you done your will yet?" We were pastors of a church.. and I was embarrassed - like a deer caught in headlights. I said. "No, I have not done that yet. We don't have money to do that, it costs about $1000 doesn't it?" She replied, "Can you afford $27?" OF course I could. Anyone could afford that and I was horribly embarrassed that I had not taken care of this most basic need for my wife and our young family.
We invited her to our home, paid our $27 and two weeks later, we had our professional, attorney prepared, legal will. Wow. We felt great! Then we had a problem. A neighbor lady kept trying to hit our children... with her car! (She was not in her right mind, needless to say.) Our $17 per month attorney firm helped us. We had tried other things, but this was our childrens lives. We took her to court with guidance and she was found guilty of harrassment. Got her name in the paper and the harrassment stopped. Since then we have used our top shelf attorney firms for traffic tickets for us and our teens, they helped with our mortgage modification, saving us $1000 per month, they have written about 20 letters on our behalf or on behalf of our children. All of these letters helped with life issues and saved us a combined many thousands of dollars.
Five years ago, a friend asked us if we had the LegalShield identity protection. No. We were paying $29.95 per month to a different service. That friend then shared with us that we were paying too much money and in reality, we were not protected with that service. We then added the LegalShield Identity protection and immediately saved ourselves $20 per month! Now, the identity protection has become "IDShield" - In a nutshell, IDShield is one-third the cost of lifelock, does everything that lifelock advertises, has a 5 million dollar guarantee instead of 1 million, does additional monitoring that lifelock does not have and has something else that no one else offers: Licensed private investigators on staff and ready to do the work of restoration for us when we have a serious identity theft issue.
We have been helped by LegalShield so much and have saved so much money over the years, that we have made it part of our ministry. If you would honor us by looking at LegalShield further, and buying it from us, we wil get paid handsomely by LegalShield. Please check our LegalShield website out: www.JoelandKathy.info You can watch "Our Videos" and then you can click "Buy Now" on the home page. You can also call us with questions. 386-206-3128.
We really feel like LegalShield is part of our ministry to you. Every family needs LegalShield, just like we did... and we are so thankful for that gal, in 1996, who had the courage to offer us a LegalShield membership. No one else ever offered it to us for the next 14 years. We would have missed out on 14 years of help - and only God knows IF and when we would have matured enough to realize that we needed to get our will done. No one talks about these things. But we are bringing this to you. Please get a LegalShield membership - and an IDShield membership. You are taking care of yourself and your family - and yes, you are helping us in our ministry expenses. Thank you! www.JoelandKathy.info
If you have a business, with employees, we can bring LegalShield to your business as a voluntary employee benefit. Doing this will exponentially help your company, will help your employees and will help us immensely. We also offer a completely seperate, wonderful legal plan to protect your business if your business has less than 100 employees. Give us a call! 386-206-3128
We are husband and wife, parents, authors, marriage ministers and truly count ourselves as.. your friends! Joel and Kathy Davisson - Palm Coast, Florida