.
Musical Manna - The Secret Place Newsletter
October 2015
Thank you for your subscription to The Secret Place newsletter: Musical Manna.
I trust you are enjoying the music of The Secret Place!
Podcast - Your Free Song Download
Here is your free song download - Blessed is the One. This month's free Musical Manna download is an instrumental song by Cindy Nelemans. Let this soft soaking music calm your heart and mind and take you into a place of rest in His presence.


To download the file, right click and select "Save Target As" or "Save Link As". Choose a location to save your file. Go to the folder where you saved the file and click (or double click) on it. It is an mp3 file and will open in your default media player to play the song.

Problems downloading?
If your email client does not give you the option of saving the file, or you experience any other problems downloading, then we recommend you download the song from our podcast page.
Featured Artist - Cindy Nelemans
Cindy Nelemans is a prophetic psalmist from Kwazulu – Natal, South Africa and has led worship for many years. Her music is spontaneous and prophetic and we are excited to offer her instrumental soaking song Blessed is the One as this month's free podcast download. Click here to read more about Cindy.





Experience Instrumental Soaking Worship
Spend time soaking in God's presence and experience His peace and rest.



Deep Calls to Deep - instrumental soaking album
Allow this restful soaking album to bring peace to your home, relax you for a good nights sleep, or provide a soft instrumental background to your own soaking or devotion time with God. The rich instrumental orchestrations on this album make it a one hour soaking treasure. This album is available as a cd or mp3 download.
Click here for more info and to listen.

Watch Rest from the above album on YouTube
Click here to watch Rest from the Deep Calls to Deep soaking album on YouTube.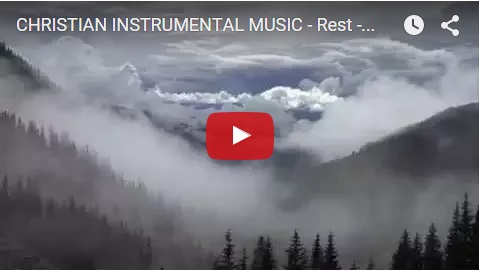 Download More Instrumental Soaking Music:
Seek My Face - instrumental/singtrax version
Rest - instrumental by Peter Robertson
Peace - instrumental by Peter Robertson
A Time to Dream - instrumental by Peter Robertson



Note from Ray
"Come to Me, all you who labor and are heavy laden, and I will give you rest. Take My yoke upon you and learn from Me, for I am gentle and lowly in heart, and you will find rest for your souls. For My yoke is easy and My burden is light." Matthew 11:28-30

God's rest is not earnt or created by formula. We don't have to try and find it; it is God's gift to us. He is REST and when we spend time with Him, we can't help but be filled with who He is.

What burdens do you need to lay down today? When we come to Him, He trades our heaviness for His lightness, our chaos for His peace, our problems for His solution and our labor and best intentions for His rest and grace. But first we have to come. "Come to Me…"


Thank you for being a friend of The Secret Place.
"Turning hearts back to the Father through intimate praise and worship".

- Ray Watson





Online Store
Browse our latest CDs and mp3 downloads of intimate worship music. Click here.
Recommended Resources

"The world's #1 Music By Ear site on the net! Ever wanted to fulfil your life-long dream of learning piano, guitar, drums, or any other instrument without reading sheet music? This is the place to go!"
Piano
Organ
Guitar
Drums
Singing
The Secret Place
Email: contact@secretplaceministries.org
Web: www.secretplaceministries.org
If you don't have an internet filter or accountability software for your family, we highly recommend Covenant Eyes
.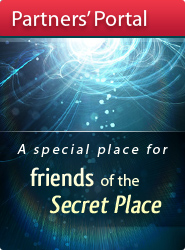 Sow A Seed
Sow a one time seed into The Secret Place and help feed the world presence bread from heaven!
Give a Donation now by clicking on the PayPal button: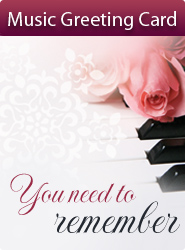 "I was spiritually dehydrated and I was serving God in my own strength. It was burning me out!... Your music has truly touched my life."
- Olivia Hyer, Brandon, FL, USA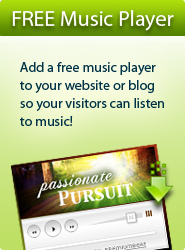 "I was deeply, quietly moved by your music. I could seriously feel God's peace, and inner stillness that comes during those vulnerable, intimate times of true worship in that secret place."
- Kevin Kellogg, Fort Wayne, IN, USA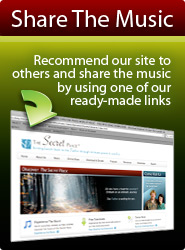 "They are, quite honestly, some of the best worship songs I've ever heard."
- Suzy Mitchell, Worship Leader at The Father's House, Kokomo, IN, USA