University of Excellence
www.uofe.org
Prince Handley
President / Regent
SEXUAL IMMORALITY
ADDICTION OF LOSS
Recently I received a phone call from a Christian brother who confessed to me that he had being having sex with a woman―a friend of their family―and asking me to pray for him. His wife was getting ready to leave.
I was concerned, not only for the parents and the other family, but for the children. Children suffer the most long-term due to these entanglements.
The LORD had been prompting me to send this brother some of my teaching on this very subject before he informed me of the situation ... and I neglected to do it. However, I sent him my teaching immediately and prayed for the family: that God would heal and restore. Praise God, restoration was effected within a week.
So ... I decided to write a book covering this type of situation ... but much more so that single people, married people and people in an alternative life style can be helped: delivered, healed and restored.
This book is NOT only about marital infidelity … it is about sexual immorality for single people as well.
How would you like to protect yourself from sexual impropriety PLUS―at the same time―learn HOW to be used in SPECIAL works for the LORD?
You will in this book ... AND ... you will learn about the secret "behind–the–scenes" stratagem to hurt you, to bring you down, to destroy you and to bring you into dishonor.
You will learn WHY NOT and HOW NOT to succumb to temptation―how to be strong and victorious.
In addition, if you have fallen prey to attacks of sexual misconduct, you will learn how to turn the situation around with a NEW start and recover loss―LOSS that you surrendered by CHOICE through temptation. But, more importantly, you will learn the JOY of forgiveness and fellowship with God: your best friend.
You will learn God's plan of protection―to keep you―and, if necessary, restoration, redemption and recovery.
Click on the book image or title below: it is available in both E-book and paperback. This book will make an excellent gift for a friend or for you church library ... or from which to teach at a Bible study.
YOU can be God's friend!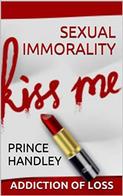 SEXUAL IMMORALITY
ADDICTION OF LOSS

Your friend,

Prince Handley
President / Regent
University of Excellence
RealMiracles.org


%%detect_both%%