University of Excellence
www.uofe.org
Prince Handley
President / Regent
HEALING ON TIME
NEVER TOO LATE
_____________________________________
"And if Messiah Jesus be in you, the body is dead because of sin; but the Spirit is life because of righteousness.
But if the Spirit of Him that raised up Jesus from the dead dwell in you,
He that raised up Messiah from the dead shall also quicken your mortal bodies by His Spirit that dwells in you.
Therefore, brethren, we are debtors, not to the flesh, to live after the flesh.
For if you live after the flesh, you shall die: but if you through
the Spirit do mortify the deeds of the body, you shall live.
For as many as are led by the Spirit of God, they are the sons of God." -- Romans 8:10-14
_____________________________________
Having a heavy schedule with the different ministry outreaches ... plus preparation for seminars coming up in USA and Europe ... recently I was beginning to want to slow down, but couldn't with many ministry responsibilities.
Sometimes I am weary at night but I always try to answer Email requests for prayer, healing and other needs.
Last night I was reminding the LORD of the many times he had healed me, and even told Him, "You have always been on time (never late) with healing ... however there were times I wished you would have arrived earlier!"
I remember the LORD JESUS healing me when I was in the hospital after being stabbed by two men who tried to rob me. You can read the account here: "How God Spared My Life."
I remember another occasion when I was in so much pain for months that I would shed tears. I went to several doctors plus specialists ... even physical therapy. i told several of the doctors I went to, "Doctor, this pain is so terrible that I have asked God to either heal me or take me home to Heaven." There was a specific point of pain in my upper right back that was causing the problem.
After several months I decided to take a trip, rest and visit a cousin I had not seen in decades. One night I was sleeping on the floor in the living room so I could write and post my BLOG without keeping my cousin awake. After finishing my uploaded post, I was in such pain that I said to the LORD, "Father, I am in such pain. If you will just sent a Holy Angel to touch me I know that I will be healed."
During the night while I was sleeping, I heard such a loud POP and CRACK noise at the point of pain in my back that it woke me up. I was instantly healed. Truly, God had sent His Angel to touch me and heal me. Yes, I would have liked for HIm to answer earlier ... but He was right on time ... not too late. It has been 10 years and NO more pain. Who knows, maybe He was testing me to see If I was worthy of further and future assignments without giving up and failing Him.
Well, back to last night when I was reminding God of the many times He has healed me ... before I went to sleep I told God, "I need a MIRACLE ... please help me. I believe your Word and your Promises. You told us we reap what we sow ... and I sow healing to your people." During the night I woke up with something like the LIQUID LOVE of HEALING saturating my body, mind, spirit, brain and bones by the LORD Jesus.
It was WONDERFUL. I just kept turning in my bed feeling His healing flood me in every position ... even my intestines and bones!
HERE IS A KEY FOR HEALING AND HEALTH
For if you live after the flesh, you shall die: but if you through
the Spirit do mortify the deeds of the body, you shall live.
Whoever you were that prayed for me yesterday I want to thank you. I have learned that at times like I experienced there is at least one prayer warrior - or, many - storming the gates and courts of Heaven. GOD BLESS YOU.
Your friend and brother,
Prince Handley
President / Regent
University of Excellence
Realmiracles.org
P.S. - You will profit greatly by reading this book >>> Health and Healing Complete Guide to Wholeness.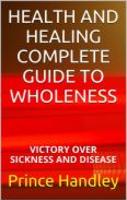 %%detect_both%%