University of Excellence
www.uofe.org
Prince Handley
President / Regent

CHARLES MANSON MURDERS

~ UPDATE ~

This last week California Governor, Jerry Brown, denied parole to former Manson family member Leslie Van Houten, saying that the murder convict "currently poses an unreasonable danger to society." She was the youngest of the Charles Manson followers at age19.
Earlier this year, the Board of Parole Hearings had recommended her release. Van Houten and other followers in the cult commune of Charles Manson were convicted for the 1969 murders of supermarket executive Leno LaBianca and his wife, Rosemary.
Charles "Tex" Watson along with Van Houten, Susan Atkins and Patricia Krenwinkel, murdered the LaBiancas. At age 70, Watson remains at Mule Creek State Prison. He has been denied parole 16 times.
But what most people do NOT know is that Charles "Tex" Watson took our New Testament Bible Studies by correspondence in the early 1970's after being convicted of murder and sentenced to prison. Watson became a dynamic Christian. Watson also told me that one of the girls in the previous Manson cult had become a REAL "born again" Christian.
Watson is now 70 and has been serving a life sentence. Behind bars, Watson became an ordained minister and fathered four children during conjugal visits. When California ended that privilege in 1996 for prisoners serving life sentences, Watson's wife left him for another man.
I personally corresponded with Watson many times while he was on our Free Bible Studies by mail. Later, while I was at a home Bible study with a dentist friend of mine and a prison Chaplain (just the three of us studying the Bible), the Chaplain told me an amazing story. I had asked the Chaplain (actually he was over several Chaplains in the California prison system) where Tex Watson was at that time and how he was doing.
The Chaplain told me that Watson had led many men to Christ. After a while a NEW warden was appointed (I think at San Luis Obispo Men's Colony ...not sure) and the NEW warden did NOT understand HOW Tex could have had such a "radical" change in his life. The new warden was thinking that Tex might be gathering a dangerous "cult" and overnight Tex was whisked away to another facility.
It's easy to understand what happened. The LORD just wanted Tex to start a new church in another facility! Jesus said, "For where two or three are gathered together in my name, there am I in the midst of them." (Matthew 18:20)
Yes, people can change when Christ comes into their lives and especially when they are baptized with the POWER of the Holy Spirit.
If you know someone who can profit from studying the whole New Testament, click on the link below. The New Testament Bible Studies (in book form) is the SAME set of studies we sent to Tex Watson by correspondence.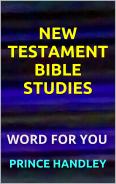 _____________

OPPORTUNITY

If you would like to work with us to provide prisoners, ministries and libraries around the world
with FREE Prince handley POWER books, click on the SECURE DONATE button below.

A TAX DEDUCTIBLE RECEIPT WILL BE SENT TO YOU

Your friend,

Prince Handley
President / Regent
University of Excellence
www.realmiracles.org

______________________________________________________________

Prince Handley Portal
(1,000's of FREE resources)

______________________________________________________________

%%detect_both%%