University of Excellence
www.uofe.org
Prince Handley

PROTESTS WILL LEAD TO GREAT THINGS

IF ...
Email this message to a friend.
Subscribe to this Ezine teaching by Email: princehandley@gmail.com
(Type "Subscribe" in the "Subject" line.)
24/7 release of Prince Handley teachings, BLOGS and podcasts > STREAM
Text: "follow princehandley" to 40404 (in USA)
Or, Twitter: princehandley
__________________________________________________

The next generation of Apostles, Prophets and
Christian Leaders will come out of the protests IF ...
__________________________________________________
In the late 1960's I saw hordes of protestors in different cities and countries. But ... I saw thousands of young high school and university students turn to God as a result.
The situation was so bad at that time that I cried out to God and said, "Things are so bad, how can our country ever be turned around for good again?!"
How did the "turn around" happen? The universities were packed with liberal, God-hating, professors. The media was leftist oriented.
THE ANSWER: Lots of young and old Christians went to the streets preaching, witnessing and praying for the protestors. Many of them received Messiah Jesus as their LORD. Many were baptized in the Holy Spirit and in water.
One young man hit me and deadened my two front teeth ... but then I told him, "JESUS LOVES YOU."
Many home Bible studies were started. Churches that were smart opened their doors. It was the start of the Jesus Movement ... AND the start of the outreach to Jews.
Many of the Pastors and Christian leaders today are a result of that awakening.
I preached from the roof of the student Union at Berkeley ... from flag poles at Hamburger Hamlet on Sunset Strip in Hollywood, in the streets at Venice Beach ... and so many places I have forgotten.
In the early 1970's I saw lots of Communists marching silently at 1 AM in Rhodesia before the Zimbabwe nationalization. However, I trained several young black men and girls who then made their own TV programs which helped to keep back lots of bloodshed. At that time I was, by God's grace, able to lead the National Director of ALL Media (Val Lynn) to Christ ... AND ... lay hands on him so that he received the Baptism in the Holy Spirit with speaking in tongues, and later baptized him in his swimming pool.
CHALLENGE: Pray that God sends out street preachers, witnesses and prayer warriors to the streets ... out where the protestors are. "Go ... and signs will follow."
"Therefore said he to them, The harvest truly is great, but the laborers are few: you pray therefore
to the Lord of the harvest, that he would send forth laborers into his harvest." -- Luke 10:2
Your friend,
Prince Handley
President / Regent
University of Excellence

P.S. - Ten months ago I published a book - a prophecy and also includes real life testimonies - titled: Anarchy and Revolution. It will show you what God can do ... IF you let HIm ... and IF you obey.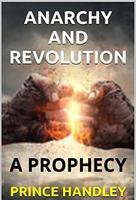 %%detect_both%%