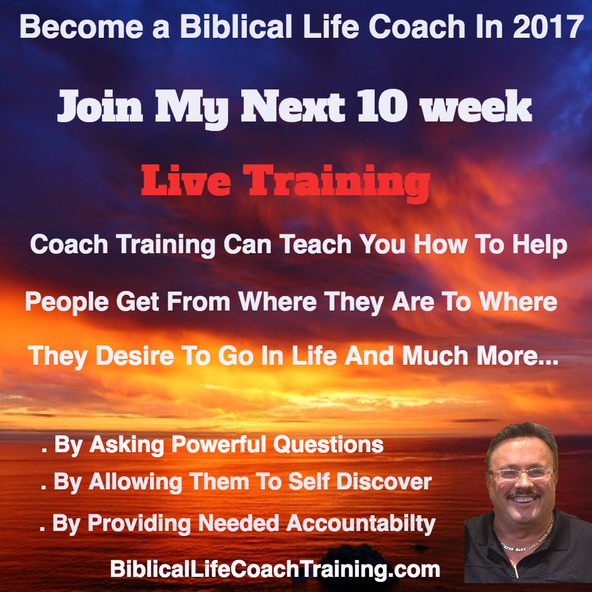 REGISTRATION NOW OPEN FOR THE NEXT 10 WEEK GROUP CLASS:
http://biblicallifecoachtraining.com/registration/
Greetings,
This is just a quick email to inform you about my next 10-week live Biblically-Based Coach Certification Program. Registration has just opened up and I think it may be a course of great interest to you.
The next class start dates for the New Year are:
– Thursday, January 3rd, 8:00 PM EST for 10 Weeks
– Tuesday, January 5th, 8:00 PM EST for 10 Weeks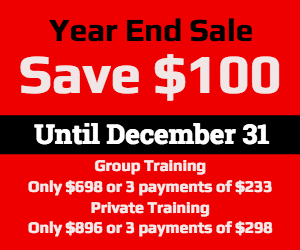 I personally believe that in life, we need to continually invest in ourselves to enrich and deepen our experiences. By focusing on making our lives that little bit better, we inevitably end up affecting those around us, often in the most positive ways possible. I'm also a great believer in investing in people. I've found that those most worth helping are those willing to believe and invest in themselves. It shows a care in one's self and a willingness and determination to succeed. It's these people I want to work with, using my skills to develop and add value to every coach I work with.
By joining my 10-week course, you'll gain the toolset and skills needed to become a great listener. You'll also learn how to ask the great questions, the ones which will bring sustainable change in your clients' lives. With this training, you'll be in the perfect position to create your own online Christian coaching program, which can be an exciting ministry opportunity that also generates an income from home.
With my training course, you'll get 10, one-hour weekly sessions of live, group or one-on-one training, culminating in a certification as a Biblical Life Coach, or a Life Breakthrough Coach. I'll be there for you every step of the way.
Upon completion of my 10-week program you'll gain free lifetime access to over 700 hours worth of online internet marketing courses that I recently financially invested in purchasing from a Christian Marketing friend who is an expert in the area of internet marketing and creating online coaching programs.
And…I want to share it all with you! This invaluable resource will enable you to learn at your own pace, choosing the subjects and topics which best suit your needs most. These programs will further train you in internet marketing and how to create a coaching program. I also have additionally included 28 tutorial videos to help you create a Word Press website.
And one more thing - after the 10 weeks of the above 700 bonus hours of training, you will receive ongoing access to my private Facebook coaching group. The group is constantly updated with fresh content to help you in your coaching practice, and where I'm available to answer any questions you might have.
Secure your place on these courses now, and start learning the techniques and tricks to help you achieve and succeed. To register, and for more information, come visit us at http://biblicallifecoachtraining.com/registration/
Here is what we will be covering in our training together
Week 1 Introduction to Life Coaching – What is Christian Life Coaching? – Coaching versus Other Methods – The Benefits of Life Coaching – Our Coaching Competency Creed – Qualifications of a Good Coach – Qualifications of a Good Client
Week 2 Core Coaching Competencies – Active Listening Skills – Attitudes, Skills & Choices – Obstacles to Listening – Coaching in the Gap – Asking Powerful Questions – Standard Coaching Techniques
Week 3 Biblical Identity Coaching – Understanding Personal Identity – Positional Identity Theft – Biblical vs. Secular Worldviews – Getting a God-Sized Perspective
Week 4 Personal Values Coaching – Living a Values-Driven Life – Ownership of Values – A Coach's Own Values – Values-Driven Coaching – A Core Values Assessment
Week 5 Life Purpose Coaching – Discovering Our Uniqueness – Coaching Around Life Purpose – Self-Discovery Gifts Toolbox – Motivators or Motivational Gifts – Passion Indicators & Exercises – Reading Your Life Backwards – Giving Permission to Dream – Vision & Mission Statements
Week 6 Obstacles & Margins Coaching – Primary External Barriers – Primary Energy Drainers – Assessing Life Balance – Primary Internal Barriers – Getting Past the Barriers – Coaching Through Change
Week 7 Renewed Mindset Coaching – Importance of Mindset Coaching – The Power of a Life Lie – The Power of Biblical Truth – Coaching Through False Beliefs
Week 8 Choices & Goals Coaching – Philosophy of Choice – The Power of a Decision – Our Choice Processes – Questions for Change – The Power of Incremental Change – Intelligent Goal Setting – Strategic Action Steps
Week 9 Powerful Questions & Assessments – Powerful Question Charts – Client Worksheets & Assessments – Goals & Actions Planner – Personal Client Coaching Plan
Week 10 Coaching For Results – Real-Life Coaching Scenarios – Coaching Forms & Documents – Marketing & Practice Building Training – Membership in the Biblical Coaching Alliance™ Plus ongoing support and access to my private Facebook coaching group.
Our Christian life coach training helps people experience breakthroughs and transformation in their thinking, values and life purpose. Our Christian life coach training is for those interested in pursuing life coaching from an authentic Biblical perspective. Are you a mentor, pastor, lay leader, counselor, life coach, or simply someone interested in adding Christian life coaching skills to your existing business or ministry or just starting something brand new?
WHAT IS INCLUDED IN OUR CHRISTIAN LIFE COACH TRAINING? -
10 Weeks of Live Teleseminar or Webinar Training with a Seasoned Coach - Access to Extremely Helpful Videos, Audios, Worksheets, and Assessments - Customizable Intake Forms, Agreements, Worksheets, and Other Documents - The Opportunity to be Coached and Practice Coaching with a Buddy Coach - Access to Practice Building and Marketing Materials to Get You Started - Certification as a Life Breakthrough Coach™ (Upon Successful Completion) - Designation as a Certified Bibllical Life Coach™ (Optional Credential) - Lifetime Membership in the Biblical Coaching Alliance™ Coaches Network - Life Breakthrough Academy & Biblical Coaching Alliance Directory Listings
WHY IS THIS CHRISTIAN LIFE COACH TRAINING UNIQUE? -
A Program that is Highly Affordable, Highly Practical, and Highly Biblical - Solid Principles of Coaching around Values, Purpose and Renewed Thinking - Training as a Professional Life Coach from a "Breakthrough" Perspective - Christian Life Coach Training that is both "Formational" and "Transformational" - You will be Treated Like Family in a Stress-Free and Cordial Environment - Communication, Training, and Support After You Complete the Program
LIFE BREAKTHROUGH COACHING CURRICULUM
Introduction to Christian Life Coaching Powerful Life Coaching Techniques Coaching Module: Identity & Position Coaching Module: Motivators & Values Coaching Module: Purpose & Dreams Coaching Module: Mindset & Emotions Coaching Module: Obstacles & Habits Coaching Module: Choices & Changes Coaching Module: Goals & Strategy Realistic Coaching Teaching Scenarios Practice Building & Coach Marketing
LIFE BREAKTHROUGH COACHING TOOLKIT
Coaching Tool – Initial Client Intake Form Coaching Tool – Coaching Client Agreement Coaching Tool – Personal Identity Worksheet Coaching Tool – Life Motivators Worksheet Coaching Tool – Priority Values Worksheet Coaching Tool – Purpose & Dreams Worksheet Coaching Tool – Mindset & Life Lies Worksheet Coaching Tool – Obstacles & Habits Worksheet Coaching Tool – Strategies & Goals Worksheet You don't have to pay thousands of dollars to get quality training. Because of the low overhead of distance learning, the cost of the Group Training is only $798 Our weekly training happens by teleconference or webinar. The Solo Christian Life Coach Training option is only $996 and fits your personal schedule.
Blessings, Pastor Vince Rizzo