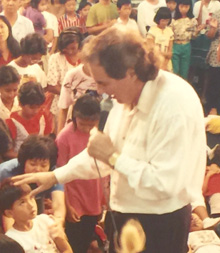 POWERFUL GOD WITH MIRACLES, SHOWS HIMSELF TO CHILDREN -Children do not have a junior Holy Spirit
Most Christians still have a religious view or even worldy view of how God sees and deals with children. HE SHOWS HIMSELF.
We have had marvellous meetings, and conferences with children and parents - it was fascinating to see how God dealt with various situations. And I've seen God use kids in very unusual ways, so I will tell you a few stories..to show you what I am talking about.
When the Holy Spirit begins to move -amazing things begin to happen - usually children are all on the floor, under the anointing, but then they have amazing visions, and are taken away sometimes into heaven.
We were doing some meetings in Gerald Dernstein's ministry in Bradenton, FLa, and the presence of God came down so strong - David taught for a while and then prayed for the kids, and sat down, and let God take over. I saw children and teens taken up into heaven - and were completely unaware of anything around them.
A lot of the kids began playing instruments in the spirit - violins and flutes, I was amazed to see a young Asian girl of about 14 begin to dance around the room - by her movements I could see she was copying someone. I have seen that before many times. But this time - this girl was raised about 2 feet off the floor, and she danced around the enire auditorium room, and her feet never touched the floor one time.. I followed her, and watched. After about 10-15 mins she gently was placed down back on the floor, and she continued to dance a little longer.
After the meeting, I asked her about it,. "Oh, she said, "An angel was teaching me a dance in heaven." When I asked the other kids about what happened, they said the angels were playing instruments with them. Some were singing in tongues who had never spoken in tongues before. We had to carry most of them to the dorms
The Light up cross
At the same camp weekend - We were all in the auditorium. It was packed, and it was the first meeting, so most of the kids were rowdy and noisy..David has a great anointing for taking authority, so he got them still. I've seen many babies who started to cry in the meeting- David would just ask them to be quiet for now - and they would!!!
Well in this particular meeting there was a storm outside, and in the middle of David speaking, all the lights went out on the whole property. It was black inside the meeting room, and it started to get noisy. David told them to stay quiet and pray for the lights to come back on. A few started praying, and then from the back the kids started singing a worship song. It kind of rolled to the front.and there was a beautiful presence of God
All of a sudden the room was brilliantly lit up by a huge cross in the ceiling. The kids were laughing, crying, screaming with excitement, and falling out all over the place.
They said at the camp afterwards, there is no way the lights could come on only in that meeting room, and there was no cross in the celing. The other lights didn't come back for another couple hours. Then the cross disappeared. Kids love signs and wonders
From then on every meeting was an encounter with the power of God. God will take over if you will step out of the way and believe.
I'll tell some more tomorrow ...luv Kathie Walters
Join our glory gravy train, we love our duckies --we are prospering www.kathiewaltersministry.com
.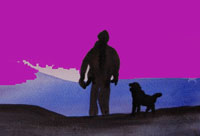 %%detect_both%%

Thank you for all your support and prayers: Paypal kathiewalters@mindspring.com and thank you so much!